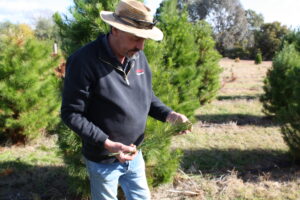 Australia is fairly upside down when it comes to Christmas ‒ it's not white, reindeers are nowhere in sight and swimming costumes trump ugly festive sweaters. So it makes good Aussie sense, writes Carly Marriott, that a stock and station agent (who handles cattle for a living) also moonlights as a dinky-di Christmas tree farmer ‒ no snow, no sleighs, no worries.
Rob Hocking lives with his wife Nicole on their farm near Barooga in southern NSW which became their home in 2004.
The property was known, quite rightly, as Baldy Hill due to the lack of vegetation and strong winds in the flat Riverina country.
Today, after planting more than 5000 varied tree species and an expansive garden, it is a haven for bird life, shade, and a whole lot less wind. The 129ha farm, where the Hockings fatten cattle and lambs, is now affectionately known as Hockshill.
Rob isn't one to over-sell anything and when asked about his Christmas tree venture explained, "It's pretty straight forward; we've got water from our irrigation system, we have sandy soils, so just add pine trees and you've got a Christmas tree farm."
Thankfully Rob doesn't mind the quiet task of maintaining the plot.
"I do enjoy the peace of it, whether I'm mowing, pruning or watering, it's a pretty calm job."
This is in stark contrast to his day job with loud livestock and even louder colleagues.
It was only eight years ago that a mate of Rob's from Berrigan suggested he get into growing pine trees.
"It's a pine tree, don't ask me what variety, but it grows here," Rob laughed.
In the first year, Rob deep ripped a plot of land to the east of the family home and laid poly pipe with drippers.
Then with trees sourced from Gippsland, he planted 500 trees followed by another 500 the next year.
"Trees are planted in June and you just keep replacing them as they mature and are sold, at four and a half years old. We now have about 1000 trees on one acre of land," Rob said.
But as the old adage goes, 'if it were easy, everyone would be doing it.' A Christmas tree doesn't just grow, it needs to be shaped (with a trusty hedge trimmer) to resemble a Hallmark card image of a Christmas tree.
"It's like vegetables in the supermarket, people want products to look perfect even though things don't grow according to their version of 'perfect'," Rob said.
"The top bit of the tree is removed to stop the tree running. If you leave them, they just run sky high. I can see if I've been lazy and not trimmed one back in time," Rob said, inspecting his festive crop.
As the end of the year draws closer, it is nearly time for the farm gate store to open. Through Facebook advertising and local buy swap and sell sites, Rob and Nicole are always able to keep the trees moving out the gate.
Nicole runs Floral Love, a boutique gift and baby store in Cobram where she puts up a home-grown Christmas tree for a window dressing and as an advertisement for the tree farm.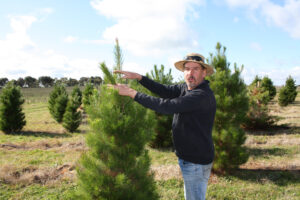 "People love the fact they can choose their very own tree just out of town," Nicole said.
"But it's a first in, best tree, people can't 'bags' a tree," Rob said.
According to Rob, the atmosphere during those first few weeks of summer is a happy time at Hockshill.
"It's Christmas soon, customers are happy, the kids are having a run around and choosing a tree is a great family outing.
"It's funny how people have such strong opinions about Christmas trees, whether they want tall and skinny or short and fat, it's quite a personal choice," Rob said.
The silly season has been in full swing at Hockshill during the last three Decembers with many an ambitious customer wedging big trees into little cars and all manner of pine logistics.
And while Rob's day job is threatened by the spread of foot-and-mouth disease, his side business of spreading festive cheer will be in demand for many more Christmases to come.