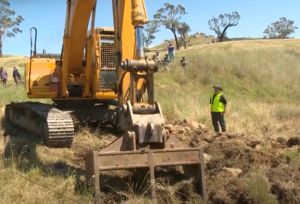 A government grant has been awarded to Victoria's leading rabbit control group to further its work with farmers in rabbit management. ANDY WILSON reports.
The Victorian Rabbit Action Network has received $40,000 from Agriculture Victoria to employ a facilitator to coordinate field days with landholders.
VRAN community representative Neil Devanny said the group's outreach via 'boot camps' was designed to enable a community to undertake its own delivery program.
"VRAN operates with some fantastic people doing some fantastic work, but we need someone to provide that facilitator role to help VRAN volunteers teach the groundwork," Neil said
"We aim to empower a community through education and knowledge, and more importantly, practical know-how on the ground."
The appointed facilitator will coordinate VRAN's many field days held across the state.
Neil said people continue to need support on how to be compliant with rabbit control and realise that the many issues with rabbits have sufficient solutions which require physical demonstrations.
"We can teach people the theory but until you show them how to do things, it only goes so far.
"And what the boot camps do for us is understand rabbit biology and behaviour, and to better understand why integrated management is the best process.
"It's not just about putting information out on a website, but by developing a relationship with people so they can trust the advice."
Rabbits are primarily controlled by the ripping of burrows with excavators, a method which is supported by ecological research.
Neil said an area near Euroa, in northern Victoria, remains one of the most successful projects because locals have continued to maintain and monitor rabbit control.
"Most people think that controlling rabbits is about killing them when in fact it's not.
"Control means controlling their breeding, which means destroying their burrows which then means a zero chance of breeding. It is totally effective.
"It's got to be done properly and it has got to be done by experienced excavators and needs to be managed by a spotter."
The success of VRAN's program relies heavily on communities taking up ownership of follow-on management.
"The aim of the game is to get the community recognising the problem, engaging with the program, understanding how it works and then seeing how to do it," Neil said.
"Then we need to develop community-owned and led programs to continue the responsibility of control.
"As long as people are vigilant, a low population can be kept lower."