It started off as a big industry. Then a booming industry — before imploding into what became barely an industry. But one Victorian stuck to his belief there was a serious future in the business, and 30 years down the track he has proved to be the prophet who always knew there would be a profit in emus. ANDREW MOLE reports.
The last thing Jeff Long wants to see in one of his paddocks is an emu.
Well, a real emu anyway.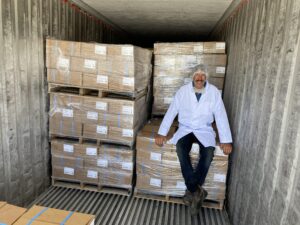 Because, in Jeff's opinion, they are as mad as cut snakes and he doesn't want any of that getting into the genetics of the docile commercial mob he has spent the past 30 years turning into Australia's premier emu enterprise.
And when you realise just how much work has gone into those 30 years you can understand his determination to put up two-metre-high fences everywhere — to keep everyone and everything out as much as keep his birds in.
Not that long ago, there were emu farms all over the place, hundreds of them.
Today, Jeff's 8000 birds at Tragowel, in north-west Victoria, represent two-thirds of the nation's commercial numbers.
It might be the biggest in the business but in the agricultural scheme of things, it's still pretty small potatoes.
But 30 years ago Jeff went into his bold future with eyes wide open, and a deep conviction things needed to change on the family farm if it was to have any future at all.
So after plenty of research and travelling as far as Western Australia to check things out, Jeff decided to get out of sheep and into emus.
And he was determined to make it work.
He was a long-haul truckie between Tragowel and Brisbane, he acted as an agent for a WA emu breeder selling into the eastern states, was a contract incubator, travelled the countryside sexing birds for people and even had a sideline candling eggs — all while trying to run and build up his own enterprise.
"The sheep market had gone seriously belly up around 1989-1990 … and it didn't look like changing soon, so something had to give," Jeff said.
"I went to WA back then and met with the people running the country's biggest emu operation and after doing my own research I could see the potential."
So, apparently, could a lot of others.
Within a few years there were around 500 emu farms across the country and the native bird was being seen as the next big thing in Australian farming.
The emu, its supporters crowed, was the complete package — seriously lean red meat, oil with remarkable wellbeing properties, its unique emerald-green eggs for artists and even leather.
Then, by and large, it all went belly up as new markets took too long to materialise, and production struggled to grow when markets did.
Except for Jeff. He wasn't going to let the dream go.
He knew he was right.
And, as it turns out, he was.
Big time.
Taking the next big step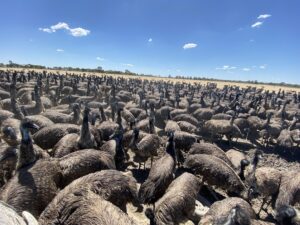 Jeff and wife Jane recently invested $2.5 million in their own on-property processing facility because there was simply nowhere else to turn.
And when you are running 8000 emus — making you Australia's largest emu farm — you can pretty much assume you've made it.
However, for one short, dark period it almost all went horribly wrong.
In August 2019 avian flu broke out on his property, almost certainly caused by migratory birds from the Northern Hemisphere cross-contaminating ducks.
"You must report these diseases immediately as the industry impacts stretch well beyond your front gate," Jeff said.
"The government stepped in and destroyed 5000 of my birds but I argued my rotational grazing, my fencing system and the way I run certain mobs together meant they would not, could not, be infected.
"For the first time in history the inspectors agreed not to kill every bird and I was furiously testing for the next few months, but it saved us.
"You do get compensation because it is an exotic disease, but if I had lost every bird that would have been the end — all the genetics gone, all that breeding for quiet birds gone, everything, gone. You don't recoup that loss overnight.
"But the inspectors' co-operation made such a huge difference and we are grateful for that as it let us not just get back to business, it let us stay in business."
So 30 years of the proverbial blood, sweat and tears later, emus are starting to pay some serious dividends for the Tragowel visionary.
Mind you, the Longs haven't exactly been starving in recent years, but now they have total control over their own totally vertically integrated enterprise.
And, for example, rub shoulders with the A-list of the hospitality industry, numbering superstar Melbourne restaurants Attica and Mabu Mabu among their clientele.
Which is all fine and dandy, but when you meet the Longs, and the people who work with them, you realise their raison d'etre is about the quality and welfare of their birds, and about always pushing to improve everything they are doing on their 245 hectares with all those flightless but feathered icons of Australia.
Take the abattoir.
In 2022, from the pour of the first concrete to the processing of the first birds took (almost to the day) exactly three months.
With the whole thing made from shipping containers.
At first impression, the complex — set 1m off the ground (in preparation for the next flood) — is like wandering onto a set for Mad Max.
It's in the middle of the farm, where containers have been welded together, are linked by walkways, and surrounded by flat, stark country.
The containers don't just make up every section of the abattoir, they have also been adapted into a recreational room for the seasonal work crew, their kitchen, amenities block, accommodation (which is supplemented by a small fleet of caravans) and even, separately, deep freeze units for product being frozen for storage and transport.
The delayed completion of the state-of-the-art facility had a knock-on effect on this year's production schedule.
In a perfect world, Jeff said processing runs January and February but in 2022 it was done in March and this season started in December.
Throughput is about 100 birds a day on a production chain planned in detail and which flows smoothly right through to the adjoining rendering facility, chillers and freezers.
Manned, this year, by 17 workers from Vanuatu, 10 locals and a lone hand from Brazil, the processing run finished with some contract work.
Getting together a gun crew was always going to be a challenge for the Longs and their abattoir (trading as The Emu Farmers Company) but they are hopeful they may have found the solution.
"The team we have from Vanuatu have been fabulous," Jeff said.
"They arrived with no butchering skills at all, so it took a little while to get them up to speed but they have been amazing.
"Our abattoir manager, Kris Milburn, was pivotal not just in training and supervising ongoing progress, she was also a key part of the abattoir design with her almost 20 years of experience in the industry,.
"And she, along with Amanda Viana, our quality assurance/assistant manager, must have done a reasonable job because, best of all, every one of the ni-Vanuatu [people from Vanuatu] wants to come back next year.
"If we could build that sort of relationship with a nucleus of workers from Vanuatu it would make the future so much easier all around.
"And then having the locals as another experienced group to work with them completes the picture and all of them have meshed so well and produced end products of the highest preparation quality."
Of course the Longs' approach to staff management also makes a big difference. They don't charge any rent for the accommodation options, they even purchased the herbs and vegies for the ni-Vanuatu and regularly run them into Kerang for everything from shopping trips to church services.
Honour the whole emu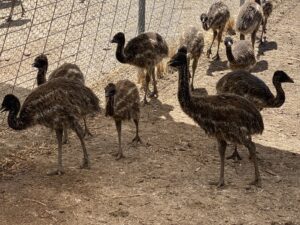 The other pillar in the production system is Jeff's determination that they all "aim to honour the whole emu by ensuring nothing is wasted".
And it isn't. Anything not able to be sold is composted and put back into the soil to help nourish future generations of birds.
"The emus roam free in lush, green, rotationally grazed paddocks and are ethically handled in every part of the process," Jeff said.
"We do not use intensive farming practices, growth promoters, hormones or pesticides and pride ourselves on ensuring animal stress is minimised at all stages by training our skilled and dedicated staff on animal handling, removing stressful transportation, allowing natural breeding and all following strict biosecurity protocols."
One of the more surprising outcomes of the new facility is its primary end-products of meat and fat.
"Birds are processed at 2.5 years of age and from each one of those we would expect to get 11kg of meat and 13kg of fat," Jeff explained.
"The meat goes to distributors — we have them in Sydney, Brisbane, WA and Adelaide. We use a cool store in Melbourne where there is strong demand and we do a brisk trade.
"We are still looking for distributors in Victoria, Northern Territory and Tasmania."
Emu is a surprisingly red meat — think beef — and its fans insist it is also very close to beef in flavour and consistency "just better".
The most sought-after cut is the fan fillet, followed by flat fillet, and inside and outside fillet.
There is a genuine emu meat market in the United States because of the widespread prevalence there of Lyme disease. Caused by ticks, one of the side effects of this debilitating disease is its victims cannot eat any food made from mammals without having an allergic reaction.
But they can use emu as a near-perfect red meat replacement.
However, it's the bulk oil Jeff is really after.
"Emu oil contains a vast amount of omega-3, 6, 7 and 9, vitamin A, D, E, F and K2, promoting and supporting a healthy lifestyle, anti-inflammatory effects and alleviating joint and muscle pain and skin concerns," he said.
"Our pure emu oil is food and cosmetic grade, with all batches tested for safety and are PrimeSafe Licenced/NATA approved testing.
"They are used for therapeutics, cosmetics, moisturisers, shampoos, conditioners, and hair and skin treatment, with a three-year shelf life from the date of production."
A date which starts in the abattoir's rendering room, where project engineer Daniel Bolitho oversees everything from the centrifuge to the conversion of minced fat to pure oil.
"It's absolutely all about the purity, especially as a lot of this oil is going to end up in capsules for human consumption," Daniel said.
"Different companies, different countries and blocs such as the EU, all have incredibly high standards for human consumption so we see our container construction as an advantage as it gave us stainless steel walls in every direction, on top of our concrete floor.
"With the various filtration systems, including a final 0.5-micron filter, by the time it is ready to be put in the specialised one-off containers for shipping it is pure."
Hands-on is the only way
When you see Jeff out in the paddocks with his birds you understand how he has stuck at it for the past 30 years.
Jeff reckons he has handled basically every one of his birds at some point in their lives.
Made easier by his dedication in breeding for docility.
All those years handling birds have given Jeff magical fingers when it comes to feeling which one is carrying more body fat — which gets them into the breeding mob.
Provided they pass one final test. "If a bird doesn't walk straight up to me they won't be breeding here."
Wandering around the complex, with its 2m fences to keep the emus in and the foxes out (there is also a 20ha electric fence to protect younger birds, backed up by Maremma guardian dogs), through various age groups, right down to the newborns, and through the incubation sheds, Jeff's face softens everywhere he looks.
The emus start laying from late April on, and well into the winter. Most eggs are laid around nightfall and by daybreak they have been hidden as best as possible until there are enough (normally between 10 and a dozen) for the male to get them together to nest on.
"We have to get the eggs as soon as possible, so the egg hunters are out there from very early every day, seven days a week trying not to miss an egg, until the birds stop laying," Jeff explained.
"Let me tell you, at 8am in mid-winter it gets pretty damn cold here."
Once they reach the incubators, the eggs are warmed and turned for the next 49 days.
When the chicks are two days old they move to the heat shed (a steady 32℃) where they learn to eat and drink and from there progress their way through the various age paddocks — under the watchful eye of farm manager Steve Meharry.
Whose life is ruled by the weather app on his phone.
Because rain can spell the ruin of a year's breeding and more.
"The young birds hate getting wet, and it makes them cold, so they will pile on top of each other to try and get warm — and smother each other to death," Steve explained.
"Even when it gets too cold they will lump together and that can be just as fatal, so we have cameras pointing at thermometers throughout the sheds and yards with the juvenile birds — and if it gets too low alarms go off everywhere and we come running.
"With 2022's endless rainfall I forgot what sleep actually was, we seemed to be out there every day and night as the rain kept falling."
But wait, there's even more
On top of the meat, the oil and the compost, there's the eggs (fertile ones are sold to other breeders) and blown ones (with just one hole) for the arts and crafts market as well as for Indigenous artists.
And then there's the feathers.
Jeff said the emu feather was unique — coming from the last bird in the world where you get two feathers from the one follicle.
He will sell them from 100 grams up but in the past has filled an order for half a tonne.
"Our Australian emu feathers are 100 per cent natural and untreated and they come in mixed lengths and a variety of colours, making them perfect for artisanal products, clothing, nesting material for aviaries, and more."
And don't think that's the end of the story.
For Jeff and Jane, the Long view with their emu farm is exactly that — branching into the branded product business might even seem a logical extension when you look how far everything has come off the back of the original 100 birds on which the farm was founded. Stay tuned.