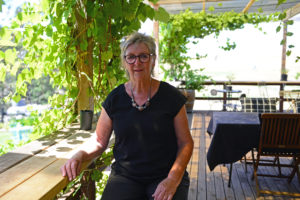 It's been one year since Sevens Creek Wagyu opened its on-farm restaurant, and the dining spot is going from strength to strength.
Successfully narrowing the "paddock to plate" journey to a matter of metres, Sevens Creek Wagyu's small creek-side restaurant usually does one daily sitting on weekends and holidays, but on Australia Day it ran two sessions to avoid being swamped.
The diners scored a near-perfect Australia Day experience, spaced out under large gum trees along a private section of Sevens Creek in Strathbogie, Victoria.
The experience allows diners to watch as a professional chef cooks some of the best Japanese Wagyu in Australia over red gum coals right before it's dished out.
It all seems perfectly planned out, but owner Chris McGregor never intended to spend her retirement as a restaurateur.
"Traditionally I was selling direct to Melbourne restaurants; of course, through the lockdowns I needed to find a new way of selling my product," Chris said.
Chris McGregor on the deck of the renovated original homestead at Sevens Creek Wagyu.
Now Sevens Creek Wagyu is available to the public through Chris' farm shop alongside the outdoor restaurant.
"I think it's important people get to experience genuine Wagyu beef, because there is a lot of inferior stuff out there," she said.
"Everything you can eat at the restaurant you can buy here. We actually sell a lot of brisket. People are getting right into the barbecuing and smoking thing now."
Chris said she was always trying to value-add to her product.
"We've got mince, pies, burger patties and sausage rolls," she said.
"We sell quite a lot of pies."
Sevens Creek Wagyu beef has scored 9 in marbling previously.
At the time, it was the highest score that could be achieved in Australia.
Since then the score has expanded by Meat Standards Australia to include a 9+ category to encompass what many consider perfection in beef form.
"I've found people love watching their meals get cooked," Chris said.
"They will go over and talk with the chef and he'll tell them how he's cooking it.
"Nine out of 10 will go up and thank him for the meal."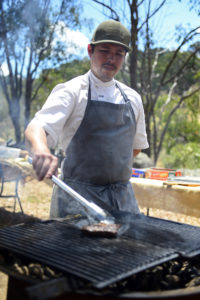 Chef Francisco Arbelo was the one working over the coals on Australia Day.
Francisco said the secret to cooking Wagyu was to use a "white hot" grill.
"Every chef is different. I sear one side and, depending on the thickness, cook for 45 seconds to one minute. Then I rest it for three to four minutes," he said.
"Something bigger, like an eye fillet, I will cook for up to 20 minutes, moving it around to find those cold and hot spots and keeping it moving. I then rest it for 10 minutes."
During the week Francisco works in a Melbourne café, but he keeps coming back to the Strathbogie hills for the customer interaction.
"It's amazing, you get that feedback straight away, you don't have a middle man," he said.
"They ask me what we season with, but I only use salt."
All the cuts are prepared by Euroa butcher Mark Collier who said there was a certain skill needed for Wagyu.
"Because it's worth $200 a kilo you have to minimise wastage," Mark said.
"Portion control is vital. The steaks have to be 300 to 250 grams and you need to have an eye for it."
Chris said public holidays were always big for bookings.
"I decided to open every day over the Christmas-new year holidays, which was exhausting," she said.
"People are still coming out and it's mainly word-of-mouth that gets them here.
"I'm hopeless with social media, I'm lucky my children are very patient."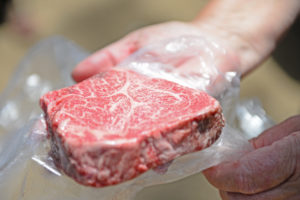 Of the customers, Chris estimates 70 to 80 per cent are from the Shepparton area.
"It's funny, they tend to like travelling away. Then there's the fact we're five degrees cooler up here all year round," she said.
"I use AI then follow it up with the bulls," Chris said.
"Right now I'm finishing about 10 steers a month."
Chris is no stranger to switching up her business plan.
After a career spent running an electronic goods import and distribution company out of Melbourne and Shepparton, Chris decided beef was her semi-retirement ticket out.
"I grew up in Wyuna on a mixed farm," she said.
"But the whole time (in business) when we were working in Melbourne, we still came back to a small cattle property we had in Shepparton."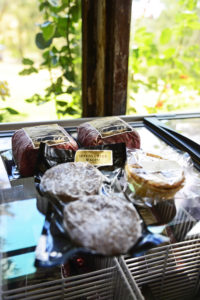 Being around cattle all her life, Chris first went in for the pinnacle of Australian beef — the Angus.
"I was interested in genetics at first and I got started with the Angus," she said.
"I learnt the ropes with them. They are big, nice cattle but the Wagyu were a bit different. I noticed how interesting they were."
After switching to Wagyu, Chris realised making it as a Wagyu genetics broker required facing a semi-retirement in the airports of Asia, so she took a chance to pivot when it arrived.
"We had 14 carcases on a feedlot for someone else and her order fell through, so we turned out 11 of the 14 ourselves."
It was something Chris hadn't done for her high-end Wagyu until then.
"Those carcases came back with marble scores of 9. We hadn't known how good they were because we'd been live exporting them (steers) back to Japan."
The Japanese beef is exported back to its ancestral homeland because, in Chris' words, "we've got more land out here than they do".
Clued into how good her home-grown steers were, Chris started door-knocking in Melbourne and the business took off from there.
Wagyu steers are always put on a feedlot before slaughter for 600 days.
Alongside being a tradition, Wagyu need to have their calorie intake specifically calculated in order to grow the desired marbling.
In Japan they can be fed weird and luxurious food like sake and chocolate.
In Australia some feedlotters are known to pour in red wine, but the main goal is to make the steers grow in a slow and controlled manner.
"The rations are written specifically for Wagyu," Chris said.
"They gain 800 grams a day, which is different from the rest where they're aiming for kilograms each day."
Right now Sevens Creek Wagyu has 700 head of cattle and multiple female herds on agistment.
Sevens Creek Wagyu can be purchased on-farm, online or at Violet Town Corner Store, Burton's IGA Euroa and Yarck Meat and Produce.