Turtles have been given a helping hand to survive in the Gunbower Forest by some very enthusiastic Templestowe Secondary College students and teachers, as GEOFF ADAMS discovered.
Broad-shelled turtles are thriving in the Gunbower Forest despite the spring floods.
Melbourne students on a mission to protect the freshwater turtles along the Murray River basin found 40 nests.
Environmental science teacher Duncan Sadler said the students were excited to find the eggs and also to release hatchlings.
"It was massively successful," Mr Sadler said.
"When we first started visiting Gunbower we didn't get to see any live turtles — just skeletons and empty nests.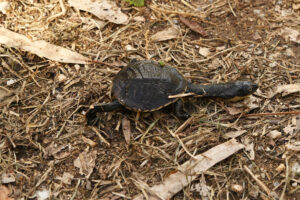 "This year we spent the whole time chasing live turtles."
The 20 students from Templestowe Secondary College camped out at Cohuna and spent about five days looking for the nests and protecting them with mesh from fox predation, in March.
The students focused their search for nests on the banks of the Gunbower Creek.
"This was hard work as the turtles camouflage them," Mr Sadler said.
"The students would then mark each nest with a flag, volunteers from Turtles Australia would come along, record the location of the nest on a GPS and collect data about its condition.
"Many of the nests had been raided by foxes during the night.
"This meant that we found many eaten turtle eggs and even some entirely eaten out turtle shells.
"This was pretty sad work, as the foxes find and destroy about 99 per cent of the nests.
"Any undisturbed nests we found we covered with wire fencing to protect the eggs whilst they sat for a year to develop.
"On the Thursday we went around last year's nests and dug up the hatchlings, so they could be safely put into the river system. This will improve their chance of survival from one per cent to about 50 per cent.
"The students loved releasing the turtles, many of them were as small as a 50 cent coin.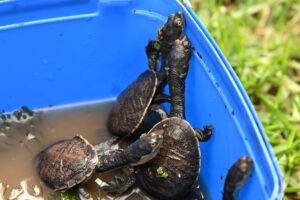 Turtles Australia president Graham Stockfeld said this was one of the most successful visits for the school group.
"The turtles seem to be thriving in this area," Mr Stockfeld said.
"They were looking very healthy and may have benefited from extra food generated by the flooding."
He said the visit allowed the students to learn about the species and help protect them in a practical way.