A dying trade is still alive and kicking (just) in a small southern NSW town. CARLY MARRIOTT has the story.
In 1922 when she was six years old, Ben Cintolo's mother came to live in Richmond, Melbourne, from Sicily.
Some years later, 16-year-old Ben was walking down one the suburb's streets when he saw a notice in a shop: "Lad wanted," and his fate was sealed.
"I needed a trade and this Greek fella was offering to teach me to become a cobbler. I gave it a go and the rest is history," Ben said.
After four years Ben had completed his apprenticeship, but he was far from done with working with shoes.
He went on to work in and out of the industry in all manner of roles for a further four-and-a-half decades.
No longer a lad, but still a leather enthusiast, Ben now calls Berrigan in southern NSW home.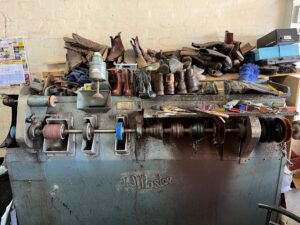 The pace of the Berrigan village suits Ben after the hustle and bustle of running his own shoe shop in Shepparton in northern Victoria for a dozen years.
"Put it this way, every repair job I did in Shepparton, I'd give the customer a ticket so they could collect their shoes. I used to get 6000 tickets printed every year.
"Working from 7.30 in the morning until 5.30 in the evening and then going back to work after dinner, it was go-go-go," Ben said.
When Small Farms visited Ben in the main street of Berrigan, he had already received four pairs of boots for repair, all before morning tea.
The demand for his craft is not waning but the supply of cobblers is.
When asked if he'd consider taking on an apprentice to learn the dying skill, Ben believes he's left it too late.
"I would love someone to come in who half knows about shoe repairs, they could buy the place and I could teach them what I know. When I fall out of a tree, this shop will be finished," Ben said.
This small-town cobbler has connections in high places as he is one of the few remaining accredited RM Williams repairers getting around.
"I have genuine RM Williams materials and most of my work is in repairing RM boots. People are very attached to their boots, and I love being able to bring them back to life."
Berrigan Shoe Repairs is known far and wide, with boots sent down from Alice Springs, up from Geelong and everywhere in between.
But it's not all hammering and polishing.
Ben has become part of the community in his 11 years in town with an open-door policy and a fondness for a chat.
"The people in this town, they are unbelievable. It's a family."