Ava Vodusek is the latest strong female lead to emerge from the Rich Glen Olive Oil family business in northern Victoria, says CARLY MARRIOTT.
At just 15, this Goulburn Valley Grammar School student considers herself very lucky to be flanked by a support network of entrepreneurial family members.
"I grew up on the farm outside Yarrawonga. Rich Glen — the shop, the products, the people — have always been part of my life," Ava said.
"My Mum Ros started a Rich Glen skincare range and I was obsessed with it, always wanting to trial products and experiment. But after a while I realised there were no products for me, for my skin."
Rich Glen's skin care products are for women, men and babies. Ava, with an eye for market demand, realised her face was not yet factored into the equation.
"Mum was always saying, 'don't use that, it's too strong for your skin, it's anti-ageing' and I found it so annoying," Ava said.
So, like any good teenager, Ava got sick of being told "no" and got busy with a work around — her very own skin care range targeting teenage skin.
"It's gentle and it suits adolescent skin. It's natural and plant-based," she said.
Ava has stayed in her lane and remained loyal to the olives that have served three generations of Voduseks well.
"All the products have an olive oil base, it is nourishing for the skin. You have to keep it simple and natural."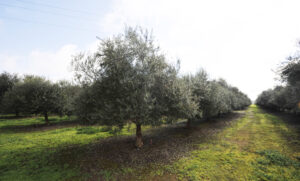 Drawing on her tight-knit family's expertise and support, Ava has been learning the ropes when it comes to product creation, packaging, marketing and social media — in between homework and school bus trips, of course.
Far from the olive grove, Ava pursued professional development (also known as work experience) in Year 10 with ELEVEN hair and body products in Collingwood.
Ava said she learnt about distribution, website content management and gained insights into the industry.
Her older brother Jack has also played a pivotal role in the launch of the Ava Marija brand, teaching her about social media and marketing.
Jack managed to broker a deal with a billboard agency in Melbourne that saw Ava's face (and products) up in lights.
"Jack has been amazing. He gives me so much confidence and has great creative ideas," she said.
When Ava is not researching acne, breakouts, bruising and blemishes, she is setting her sights high on where her family's olives could one day land.
"I'd love to see a 'farm to body' line end up in [beauty and skin care outlet] Mecca," she said.