John Mantovani has taken his passion for produce and staked his claim in what he believes is fruit heartland. CARLY MARRIOTT tells the story.
The son of stone fruit orchardists, John — with wife Krystle and their three children — have flung open the doors of Manto's Produce and Providore with old-world flair.
And the locals in Cobram, in northern Victoria, are lapping it up.
"We're a traditional greengrocer; it's unique and I want Cobram to get the recognition it deserves for growing such a variety of fruit and vegetables," John said.
At home in his shop, John gave a rapid-fire list of the products that he sources locally — apples, peaches, pears, apricots, mandarins, oranges, nectarines, cherries, tomatoes, broccolini, persimmons, berries, strawberries and pomegranates, to name a few.
"There are big suppliers in this region and I want to bring them all together and give people the chance to eat local food," he said.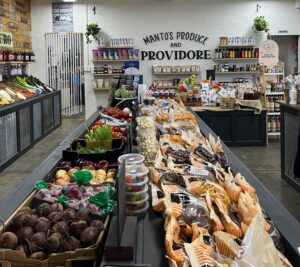 While John visits the Melbourne markets to fill the gaps, he finds that being in-store to have conversations with customers is helping educate consumers about the seasonality of products.
John cut his teeth working for his parents Nick and Gisella on their Cobram orchard, learning the importance of hard work and the challenges faced by fruit growers.
"We were hit hard by three hailstorms in four years," John said.
"Farming is hard, brutal — but I don't regret working on the farm.
"It means I understand my suppliers now — I can have that good relationship with them because I know what they need."
John made the move to Melbourne in 2010 and came home shortly after wanting to do something different.
He opened a self-serve farm store and set about selling fruit and vegetables direct.
A Manto Produce van would traverse the district delivering boxes of produce to people's doors and before long it escalated to wholesale for pubs and restaurants.
After nine years of that, the opportunity came along for John and Krystle to open a retail store in Cobram.
According to John, he was motivated by an intergenerational love of the industry and an eye for market demand, so they jumped at the chance.
The store had been open for six weeks when John admitted it was "going better than expected".
The smell of freshly squeezed orange juice, courtesy of the cold press, fills the store and is a nod to the region's rich citrus history.
"People don't tend to drink orange juice anymore, but they're coming in, smelling it, and picking up a bottle," John said.
"The sumo citrus and blood orange juice has been a big hit, each variety has its own window of opportunity depending on when they're picked."
John believes that having a 'face' in the shop for customers to talk to has helped people understand that fruit and vegetables come and go depending on the time of year.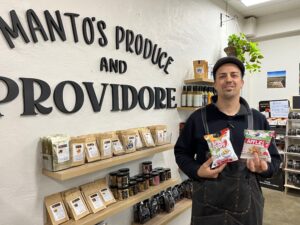 While major supermarket chains can stock all sorts all year, John is not fazed by that.
"Supermarkets are not my competition, they are big business.
"People ask questions — they're interested in the back story, the provenance of food."
During what is being dubbed a 'labour drought', Manto's Produce and Providore employs a dozen staff members with jobs including delivery drivers, store stockists and sales staff.
Moira Shire Council recently approached Manto's Produce and Providore to be a tourist information point.
"I am already training our staff to promote the region and what it produces," John said.
"We're proud of where we come from, so of course we're happy to be a contact point for tourists."
While John's dad Nick was driving tractors in the orchard at just eight years of age, John has other ideas about how he can involve his children — three-year-old Andre, four-year-old Dominique and 15-year-old Cyrus — in the family business.
"I want my kids to learn good work ethics and to be able to communicate with people from all walks of life," John said.
"The shop will carry the legacy of our family name, that has come from the farm, and it will provide them with the knowledge of the industry, that's important."
– ximimage could not be copied –