Outside of Rutherglen, a modest 40 hectare property is beginning to thrive with its organic management practices to produce a range of sought-after flours which are grown and milled on-site, writes ANDY WILSON.
A sizeable grant from a not-for-profit network of sustainability leaders has given the farm a welcomed boost through the purchase of a newly imported flour sifter.
Courtney Young and partner Ian Congdon may have had diverse family backgrounds in farming, but they have become a determined duo since establishing Woodstock Flour six years ago.
"Organic farming is all that we've ever known," Courtney said, whose father was an oyster farmer.
"Ian grew up on his parents' organic farm in Berrigan and so we decided to start our own business," she said.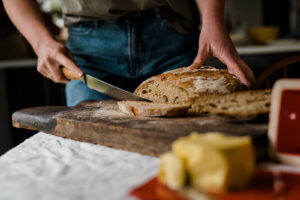 The couple's prime objective is to build resilience in the enterprise by using unique organic amendments to traditional farming practices.
"The main thing for us is to have no synthetic fertiliser or herbicides and pesticides."
Woodstock Flour proved to have the right concept in action to gain inclusion into the Sustainable Table community and find its place on that organisation's regenerative online map.
Sustainable Table connects regenerative farmers with funders and uses its map to give it's members some visibility as a growing community of change-makers creating a healthier and more sustainable future.
Sustainable Table chief executive officer Jade Miles said the map was the first of its kind for the regenerative food and farming industry.
"We're aiming to grow the number of businesses listed on the map to 1000 or more by the end of the year," she said.
Woodstock Flour was incorporated into the map at its inception 10 months ago along with 40 other farms and businesses and was recognised for its sustainable and organic farming methods.
Worm castings (vermicast) sourced from Albury are used on the farm as both a soil fertiliser and a seed dressing.
In addition, Courtney and Ian choose to not sow any summer crops in order to contain soil moisture.
And despite 'no till' farming gaining traction in mainstream broad-acre farming, Courtney said that the practice of direct drilling without ploughing brings with it major weed infestation.
"We'd like to reduce tillage, but we are limited at present."
Weeds are managed over summer with a mixed species of cover crops which provides nitrogen fixation and maintains soil biology, while suppressing weeds.
The mix includes radish, two species of clover, rye and oats and is designed to rebuild soil fertility.
Courtney and Ian's aim is to direct drill grain crops into the dying cover crop and at present are trialling different methods.
Because more modern varieties of wheat are shorter, weeds are more difficult to control.
"However, we think the non-use of herbicides outweighs the benefits of no-till soil management, and so at present tilling is what we do."
Direct drilling for winter grains has been met with challenges, but Courtney is confident their method will be refined over time.
Jade Miles cannot praise enough the aspirations of Courtney and Ian and describes them as 'trailblazers' in organic, regenerative farming and believes their strongest trait is the relationships they have developed.
"They live and breathe collaboration and not only is that their default setting, they have an ability to embed that into their community which gives agency to others," Jade said.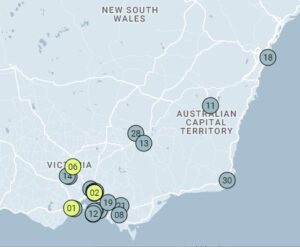 The regenerative style of farming at Woodstock Flour does not stop at growing five different cereal grains.
They also sell lambs to a local niche market, produced from their 35 head of Merino ewes that they cross with a Hampshire Down ram.
The couple's expertise with the livestock involves the delicate balance with which they incorporate the sheep into the rest of the farm.
"We rear them based on holistic management principles, rotating them quite frequently as a strategy for crop management and of course for animal welfare," Courtney said.
"Having a diversity of products is good for business."
Such diversity has put Woodstock Flour literally 'on the map', which Sustainable Table has designed to help the sustainable food and fibre industry share knowledge and allow conscientious consumers to find regenerative businesses to support.
It also allows funders to discover new investment opportunities.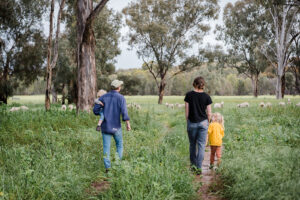 Courtney and Ian capitalised on joining Sustainable Table by applying for and receiving a grant they describe as 'generous' to buy a new sifter from Denmark.
That opportunity allowed them to produce a much more finely sifted flour resulting in a far superior product.
"The imported sifter has made all the difference, and the flour makes better cakes, breads, biscuits and pasta," explained Courtney, grateful for being connected with an investor.
"Thanks to Sustainable Table, we can provide a better service to our community.
"Sustainable Table have the connections to help fund change."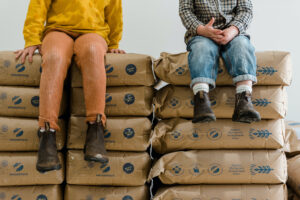 The inclusion of Woodstock Flour into Sustainable Table was a 'bit of a no-brainer' according to Jade, who believes that the type of work which Courtney and Ian undertake is not being done by others.
"They are amazing, they are incredible, and they don't do anything without thinking about its impact on the landscape.
"They are always seeking to change the food system and what we need is a higher grade of processing to meet bakers where they are at and if we can do that then in theory Courtney and Ian can push a lot more heritage grains onto the market."
Jade is currently seeking farmers within the Goulburn Valley to peruse the regenerative map online and consider applying to help build a growing army of regenerative farmers.
"It takes only 45 minutes to apply, and we undertake due diligence to everyone who applies.
"We want other farmers to see what our model looks like and you can't do that without the mass of voices being seen in one place.
"Regenerative farmers should get involved."
For more information, visit: https://www.sustainabletable.org.au/map