Jones Winery in Rutherglen loves nothing more than matching good food with great wine, and winemaker Mandy Jones and her brother Arthur Jones think they've found the best pairing, writes CARLY MARRIOTT.
With fierce young chef Briony Bradford in the kitchen and the result of six generations of viticulturalists evident in the vines, Jones Winery, Vineyard and Restaurant has recently earned itself a revered 'hat' from the Good Food Guide.
"We're just a small restaurant in the regions," Mandy Jones said.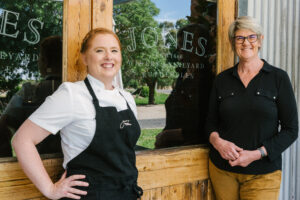 But don't let Mandy's modesty fool you. This little venue in Victoria's north-east is harbouring some international gastronomic expertise.
Mandy spent years in France pursuing her love of food and wine and completed the Cordon Bleu course in Paris.
"I travelled backwards and forwards between Rutherglen and Bordeaux for some time, before eventually basing myself here on the family vineyard, working with my brother," Mandy said.
Her nephew Benjamin, at 24, is a qualified winemaker and is the next generation of Jones to be heading overseas (after the harvest of course) to learn more about the wide world of wine.
Briony brings her own wealth of knowledge to the table after working in three-star restaurants in France and London and in two and three-hat places in Melbourne.
Briony is passionate about food, French food to be precise.
Oui, oui!
According to Mandy, Briony just happened to be, at the right place at the right time when they were looking for a chef and now with a 'hat' to the restaurant's name, everyone is smiling.
"We work together to match wines with dishes, it's our true passion, and we often get a lot of great feedback from customers," Mandy said.
She believes their success was not the result of striving for recognition, but simply wanting people to have that good experience with food and wine.
"Briony has really challenged classic dishes," Mandy said.
"She mixes things up in the kitchen, putting fruit on savoury dishes and vegetables on desserts and the outcome is fabulous.
"The Jones Mixed Tomatoes with Marsanne Roussanne is a great example of what she's capable of."
At just 12 years old, the restaurant is relatively new in the scheme of things.
"Our grandpa bought this vineyard back in 1927. He married our grandma, who was a Campbell, and that's where the winemaking genes came from," Mandy said.
For the past 24 years Mandy and her brother Arthur have owned the property and continue to work in all moving parts of the business.
Mandy is on the lookout for anyone wanting to work in a fine dining setting and experience working in French-style cuisine. Some would consider that a unique offering in the regions.
"We're open for lunch from Thursday to Sunday and we offer a monthly degustation dinner where Briony dreams up some challenge for herself and puts together a five-course extravaganza," Mandy said.