Walking into an orange juice factory in the thick of winter smells exactly like you want it to. Like delicious, freshly squeezed orange juice. CARLY MARRIOTT recently savoured the aroma.
The woman behind the hive of activity at The Great Australian Squeeze is Emma Salter.
She's a Barham local, whose grandparents Jack and Win Williamson first started a citrus orchard 70 years ago near the Murray River town in the southern Riverina.
When Small Farms visited Emma, she was busily directing forklifts and allocating pallets of orange juice to trucks in the factory at Koondrook, just over the river from Barham.
"We use a local freight company to run the juice to Melbourne and they do backloads of beer to the pub and groceries to the supermarket," Emma explained.
A win-win for all involved.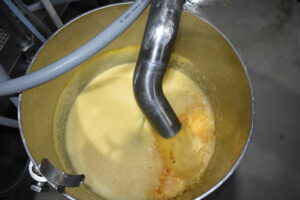 Emma is all about good outcomes for her community.
Her family developed a 120ha citrus farm, and grow Navel and Valencia oranges, grapefruit, lemons and lime and produce more than 6000 tonnes of fresh Australian citrus each year.
However, in 2012, after the price of citrus plummeted and many orchards were abandoned or destroyed, Emma and her parents Phil and Sandra, moved into on-farm processing and bottling.
"That way local growers could get a decent price per tonne for their fruit," Emma said.
As they say, adversity leads to opportunity and The Great Australian Squeeze was born.
"Before we began bottling juice, Dad supplied The Original Juice Company and learnt from Nick Thyssen how to make orange juice taste good. There's a skill in blending varieties as the seasons evolve," Emma said.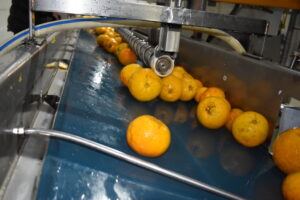 The Great Australian Squeeze has been juicing for 10 years and while Emma believes her dad, who turned 80 at Christmas, is fussy when it comes to making juice, she praises him for producing a consistently reliable product.
Over time the family have focused on their processing operation, moving the facility from the farm into their current site in Koondrook in 2019.
"We source oranges from Barham, Tocumwal, Griffith, Mildura and surrounds, our juice leaves the factory in 1000 litre bladders or in branded bottles," Emma said.
"We sell around 15-18,000 litres of branded bottles per week, all year-round, mostly to Woolworths."
And according to the team behind The Great Australian Squeeze, every bottle matters to every grower.