Stone the crows, farmers can grow just about anything these days. Take those industrious Taswegians — for years their little island was awash in poppies of the opioid kind. That was a big business in the end. But over in northern Victoria a company called ECS Botanics has started making smaller inroads into the medicinal cannabis industry — with a small farm which has plans to grow very fast. ANDREW MOLE has the story.

As if farming isn't a tough enough gig at the best of times, Nan-Maree Schoerie decided to pick one that must function under the watchful eyes of the government, as well as the weather gods.
The unmistakably South African chief executive of ECS Botanics grows grass.
Not lawn, not turf, but 'grass'.
Which in the business world is marketed as cannabis, its more professional name, rather than the stoner vernacular.
But both ECS and those illegal croppers are producing the same basic product — cannabis sativa.
The difference is the government departments with which they have to deal.
Nan is on the speed-dial of the federal (and state) Therapeutic Goods Authority (and her quality control is answerable to the demands of the pharmaceutical industry).
Nan says in many ways the black market is her biggest competitor, and if marijuana was legalised, that dark world would likely disappear — and the government would be able to tax legal production.
And then, as if that farming package, and an underground opposition, were not quite a big enough test for Nan, she and her business decided to do what history, and most opinions, agreed you couldn't do — try and grow medical-grade cannabis in an open field. Theoretically it is — correction, it has been — considered impossible on a commercial scale.
Clearly, Nan loves a challenge.
Just as clearly she also had a pretty good idea of what could, and could not, be done to set her business apart.
So, how's that all working now the Murrabit West-based enterprise has been in business for more than two years?
Well how about late last month, when Nan signed on the dotted line for two binding offtake agreements worth almost $12 million to supply medicinal cannabis dried flower for the next three years.
ECS will supply its cannabis dried flower to Melbourne-based medicinal cannabis company Entoura Pty Ltd, and a second, smaller order, to Sydney-based Precision Pharmaceuticals Pty Ltd.
Under the agreement, ECS will supply a minimum of three strains of medicinal cannabis dried flower exclusively to Entoura.
Precision Pharmaceuticals retails various medicinal cannabis products and conducts research and development and it will receive exclusive strains of dried medicinal cannabis flower for inclusion in its retail product range.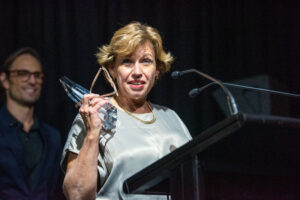 It might seem small potatoes, as it were, but in case you missed it, ECS has only been in business for the past two years after being licensed in 2020.
Nan says the company bought 70 hectares 2019 while waiting for its licence, but is still very much a fledgling operation, with only 6ha actually in production (and sharing the infrastructure, which includes a large pharmaceutical complex).
A smallish business with plenty of scope for expansion.
But there is no mistaking the enthusiasm in Nan's voice as she talks about the contracts and her company starting to get some traction in what is also a nascent industry in Australia.
"It is rewarding to see the momentum across our entire business, with sales, distribution and customer relationships all performing strongly and resulting in products the market wants," Nan says.
"These latest two Australian sales have come close behind our almost $10 million contract to supply products into the German market.
"At ECS our focus is on building a cost-efficient, large-scale, B2B business which can supply a diverse range of retailers with medicinal cannabis flowers and oils.
"And there is no doubt in our minds that developing relationships with companies such as Entoura and Precision, which both focus on improving patient access through affordable quality products and education, as ideal partners in supporting the growth of the medicinal cannabis industry in Australia."
Growth is the byword at ECS, because according to Nan, they are just getting started.
Building on their bold decision to have field production as well as protected tunnel crops as a response, she says, to the growing acceptance by the modern medical profession that cannabis has a genuine and diverse role to play in patient care and wellbeing.
Already the federal and Victorian TGA have created protocols for doctors and patients summarising the available evidence to help them determine whether medicinal cannabis may be beneficial for certain conditions, including: epilepsy, multiple sclerosis, Parkinson's disease, nausea and vomiting, pain, palliative care and anxiety.
Nan says there are 30 companies in Australia licensed to grow medicinal cannabis, but only about 10 of them are doing anything in the sector at this stage.
And of those, ECS is one of only two which is working on field crops.
"Most cannabis is grown hydroponically, but we have a focus on producing an organic plant and in regenerating the ecosystem so we are leaving the soil in better shape than we found it.
"It is far and away the most sustainable way to grow our plants. I see it as a bit like wine — by growing in the open field you get the benefit of full sunshine, the nutrition of the soil, the terroir, the overall goodness.
"Of course it is also a significantly lower cost factor as well because nature is footing the bills with solar power, rain and the soil."
There are other challenges as well, but especially mould.
"Botrytis is our biggest single challenge, which is why we chose a location such as Murrabit West, with its hot, dry climate.
"But with all the rain we had in 2021 and again last year, we had some serious mould issues. The plant develops to produce big flower buds, about 20cm, and the last thing they need is water falling on them, which is why we only use drip irrigation, but we need those 30°C days, with no humidity, to be safe."
And she says while the industry is new, and working overtime to claim its space, it also has a lot of ground to claw back as more than 70 per cent of the medicinal cannabis currently being used in Australia is still imported — with the main suppliers being South Africa, Canada, and Colombia.
"It's a case of trying to work both ends and get them to successfully meet in the middle."
That's another ball in the air as the production system gets up to speed and ECS proves to the world, and itself, it can make a real go in the field and in the wider market.
But Nan is up for the challenge.
"I was over the whole corporate thing. I had been working in senior roles around the world, but what really appealed to me was getting into a business where I could manage the culture.
"Cannabis had never crossed my mind, but my husband is in the pharmaceutical industry and although it is a hard legal industry in which to make money, with the pressure from imports, building completely new markets and then throwing in all the normal pressures of farming, made even more difficult as ours is a very labour intensive industry right now as there is not really any automation which has been designed for us.
"At harvest, all the stalks and flowers are hand-harvested but we also work very hard at being a low-cost model, solar, we really are sustainable."
Cannabis is an annual crop, and that's what ECS gets in the field.
But Nan says when it comes to the tunnels, they have been able to trick their plants into at least two crops a year with a combination of blackouts and lighting.
"When we started out in 2020, we had five full-time staff (including her) and now we have about 67 on the books; backed up by backpackers and PALM workers during harvest."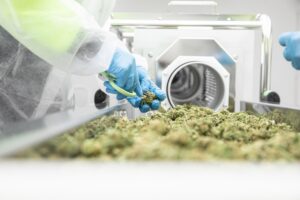 And should you ever be confused about which part of the cannabis sativa is the business bit, always seeing fields of soaring, bushy plants with that oh, so, familiar leaf profile (seen on T-shirts the world over since the 1960s), and bales of rooted up plants being destroyed in massive pyres, it has nothing to do with the leaves.
Nan says it is all about the flower — the best and biggest of them will be processed and packed in jars, to be used for inhalation, while the rest go into manufacturing medicinal cannabis oil.
The primary active ingredients in medicinal cannabis are CBD and THC, which are both cannabinoids.
Similar in structure and what they can be used to treat, the most important difference is THC creates a 'high' in users while CBD will not.
Cannabidiol (CBD) and delta-9-tetrahydrocannabinol (THC) are just two of many cannabinoids present in the cannabis plant.
In the body, they interact with cannabinoid receptors to help treat or limit the effects of various conditions. In some circumstances, THC can also have a psychoactive effect.
Cannabinoids refer to substances in the cannabis, or cannabis sativa, plant.
But right now, cannabis and/or medicinal cannabis, also means more hard work for Nan and her team — and hopefully with the minimum rain.