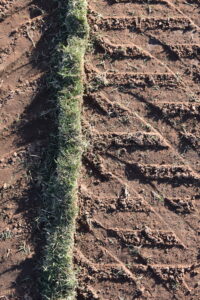 Coolabah Turf has come a long way from a little business that started out in the middle of the drought in the front paddock of an Echuca property 20 years ago, SOPHIE BALDWIN discovered.
Back in those days, Suzie and Brad Shearer had a young family and a dream to grow some grass.
Brad would cut the turf and Suzie would hand roll it — with a baby lying in the pram next to her.
However, with a focus on innovation, sustainability and quality staff, Coolabah Turf has now grown into one of the biggest turf businesses in the country — spanning 234 hectares under production, across six strategically placed farms in northern Victoria.
But it hasn't been easy.
"We started Coolabah in the midst of drought when lawn watering bans were in full force and we were paying $1000 a megalitre of water," Suzie said.
"We basically had a product we couldn't market so we soon worked out pretty quickly we had to either get out or get better and that's where our focus on sustainability really started."
Initially growing tall fescue, Suzie and Brad made the move to more drought-tolerant species including Sir Walter DNA Certified Buffalo, Eureka Premium VG, Eureka Kikuyu and Nullarbor Couch.
"We went from rolls to slab-cut turf with a soil base between 30-40mm, allowing for quicker establishment and half the water requirement and we haven't looked back since," she said.
Farm manager Dave Geltch has been with the business for five years and he just loves growing turf.
"It's a bit like managing a huge landscape garden every single day of the year," Dave laughed.
Dave is responsible for 15 staff and the day-to-day operations of the business.
"Here at Coolabah, we grow licensed varieties protected by plant breeders rights and nothing is grown from seed. We grow four types of grass species and six different varieties," he said.
Each grass might be managed differently at harvest but the maintenance and day-to-day care is similar.
"Water, fertiliser and aeration are our friends in the turf game," Dave said.
"Sir Walter is grown on top of the ground. Our turf slabs are 16 inches wide and when we harvest, we leave behind a two inch wide strip of grass between rows which then regrows.
"Our other varieties are rhizome-based grasses and we clean cut the rootstock back to ground level and it then regrows."
The business expects to get around 10 years of production before a paddock is re-lasered and the process starts all over again.
Any form of agriculture has its challenges, and growing turf — especially during the cooler months — is certainly no exception.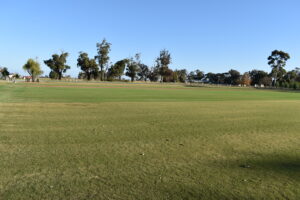 The team has always been open-minded and innovative when it comes to trialling new ideas.
"One year we hired a chopper to fly at 50m above the ground, sitting in the inversion layer to mix warmer air (at about 5 degrees) with air on the ground sitting at around zero degrees," Brad said.
However, their most effective practice has actually been the use of frost blankets.
"The cloth helps minimise the impact of frost damage visible on the leaf, as well as accelerate the recovery of damaged stock as we transition into warmer spring weather," Brad said.
"Dragging cloth around is a huge labour strain — but given the market we need to supply and the volumes we need to produce during this period — we couldn't do without it now."
Trialling the use of organic and synthetic fertiliser products to improve cold hardiness and lower plant freezing points is also a key focus for the business.
While frost wasn't really an issue last winter, the extremely wet conditions threw up their own unique set of challenges.
"The wet season might have inhibited turf growth but on the positive side, water use for the entire year was way down on our average use of 7.5 Ml/ha," Dave said.
Coolabah Turf might have grown to surpass the wildest dreams of Brad and Suzie, but they maintain they couldn't have done it without their staff.
"Staff are the key to the success of any great business and we certainly wouldn't be where we are today without ours," Suzie said.
"We have always loved and thrived on our ability to grow a great quality product, provide on-time delivery and get daily praise from happy customers about the service our team offers and that will never change."