It didn't take Guy Treweek long to realise he wanted to be in white meat sheep, but he decided his White Suffolks faded into the shadows when faced with the dazzling arrival of the (drum roll please) UltraWhite. The Wakool stud breeder might have gone for the whitest of whites, but they are also earning him a lot of very broad, blue ribbons on the show circuit. ANDREW MOLE reports.
Guy Treweek might have seen his UltraWhite sheep as an "expensive hobby", but he's sent a clear message to the industry that there's a new force in the market for meat sheep.
His Induro White Suffolk stud, based at Wakool, NSW, already had a blue ribbon reputation for the quality of the rams it produced, but Guy was getting sick of having to find shearers.
So he thought he would dabble in a shedding sheep to save hassle, time and money and settled on the UltraWhite.
He might have started with only a handful, but his magic touch saw him go to this year's Australian Sheep and Wool Show at Bendigo and come home with not just the UltraWhite ewe (under 1.5 years) ribbon, but also the champion ewe ribbon before she knocked every other cleanskin star off their perch to win the coveted supreme cleanskin interbreed championship as well.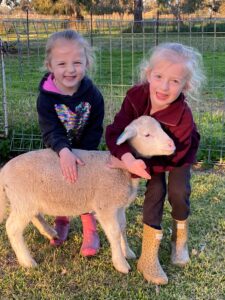 Mind you, Guy wasn't planning to waste the trip, either — his signature White Suffolks brought home another swag of firsts, seconds and thirds across a range of categories.
"Bendigo was a first for my UltraWhites, so to go there with the pick of my very small group of them and win the ewe title for starters was already something special," Guy said.
"But for her to then go to the all-breeds judging for cleanskins and win, and win against Dorpers and everything else, well, that was just a huge surprise and so rewarding.
"I reckon what probably got her over the line at this show was she is such a very good-shaped sheep, but so is her structure, and you could only describe her feet as perfect.
"That's what made her stand out from the rest — how well she stands, her shape — she's just a really nice, tidy, ewe."
And Bendigo is about the hottest competition around, attracting entries from across the country and some of the most severe judging standards, so being the best is about as good as it gets.
That said, Guy is also just back from Hamilton Sheepvention where his team of 16 White Suffolks managed to snap up 18 ribbons — including the sought-after senior ram title.
Guy said the UltraWhite was a 75 per cent White Dorper and 25 per cent Poll Dorset mix, with the aim to be a bit bigger and more muscular than some of the other shedding breeds.
He said the breed itself was pretty new, having started out in 2005 as the latest direction in a high-performance, fast-growing, low-maintenance wool shedding sheep.
Breeders describe the end result as a "hardy sheep able to perform at the highest level for growth when conditions are right for peak production".
Then there's the shearing issue.
Guy said he believed the challenges faced in the shearing industry and the lower prices for crossbred wool were driving the move to shedding sheep.
He said he was already losing frustrated clients from his White Suffolk ram sales to other cleanskin breeders.
"I believe it's really everything to do with the shearing industry," Guy said.
"I think everyone has had enough and are looking to get out of wool — the price of crossbred wool at the moment is not even covering the shearing cost.
"And that's if you can even get shearers."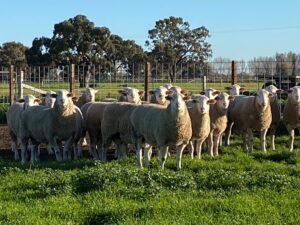 Although it was Guy's father, Max, who founded the White Suffolk stud 35 years ago, Guy received 10 ewes for his 10th birthday so he has been pretty much part of the stud from the get-go.
Its annual ram sale this year will see 180 White Suffolks (1.5 years) and between 15 and 20 UltraWhite and UltraWhite first cross rams go under the hammer on Friday, October 13.
He said the stud sold rams to most states (and some ewes to Tasmania) with a record high of $8500 and averages up to $1700.
Induro also had a team of 16 White Suffolks at Sheepvention in Hamilton in late August, and another team at the Royal Adelaide Show and the Bendigo Elite Show and Sale in September.
Guy said the immediate future of the breed would take some careful management as the genetics he sourced from Hillcroft Farm in Western Australia were, like most UltraWhite genetics, bordering on line breeding as there were few outcross options right now.
However, he is confident the growing success and recognition of the breed will attract more breeders and different bloodlines to expand the base of the breed gene pool.
"I started out with five older ewes and in my first drop had eight ET lambs.
"In the second program, I had 27 pregnant ewes (seven naturals), but now I really need to accelerate, so I am flushing my purebred ewes for embryos and will also be relying on some first-cross Ultras to get numbers up and breed back from there."