As the name suggests, SumoCitrus hails from Japan. But that hasn't stopped the Americans and, more recently, the Aussies swooping on this big, unique fruit and eating it up piece by piece. CARLY MARRIOTT has the story.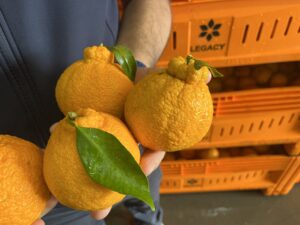 "SumoCitrus is its own fruit known for the sweet, juicy flavour and large, seedless size," Marcus Diaco explained.
"With its easy-peel skin and its very distinctive top knot shape, you can't compare it to other mandarins."
Marcus's official title is general manager (farms) at AC Foods Australia, the parent company of Legacy Packing and Mowbray Farms based in Cobram on the Victorian/NSW border.
The Murray Valley has a rich fruit growing history, and Marcus is the third generation of his family to grow fruit in the area.
He is also the son of the orchardist who created a horticultural enterprise that caught the attention of a United States-based multinational.
"In 2009 our family bought a block in Berrigan and planted SumoCitrus in 2011 at what is known as Mowbray Farm," Marcus said.
"AC Foods knew us and knew we could grow SumoCitrus so we had an established relationship. Everything fell into place and they purchased the farm and packing facility in 2017."
Marcus grew up in the paddock with his father, Angelo, and in the packing shed with his uncle, Frank.
At 37, he is now spending his days immersed in the SumoCitrus job just down the road from where he cut his teeth working on the family stone fruit orchard.
"We were encouraged to move away and get a career when we finished school, but I always loved working with fruit. It interested me then and it still does now," he said.
While Marcus spends more time in the office than his late father did, the passion for fruit continues with his son, Lewis, requesting a 'Sumo Cake' for his seventh birthday.
Marcus's wife Alisha was able to create the masterpiece, sticker and all.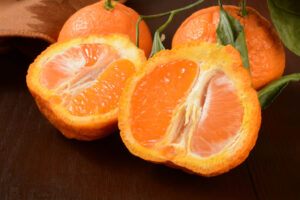 And while the Diaco children wait all year for SumoCitrus season in mid-July, the rest of the domestic market is relatively new to the party.
"I am always surprised that people don't know about SumoCitrus. It has been grown in Australia for about 10 years," Marcus said.
Legacy Packing packs a range of fruit but specialises in SumoCitrus from the Sunraysia and Riverina region, and sends 50 per cent overseas, mainly to the US.
The US, never one to do things in halves, grows 10 million cartons a year and is counter-seasonal to Australia, meaning Marcus has a busy job keeping the SumoCitrus up to the Americans in their off-season.
Domestically, Woolworths has the exclusive rights to sell SumoCitrus in-store and there's a good reason these rotund fruits sell for a premium; they're a bit precious.
"The fruit is handled very delicately through every step in the orchard," Marcus said.
"It's hand-picked. It has to be handled carefully with smaller bins of less weight.
"Then they need to be cured for a time, which is just them just having a rest. This reduces their likelihood of bruising."
With Marcus overseeing the established 220ha orchard at Berrigan and a new 420ha development at Barooga, he is proud to be playing a role in the operation, part of his family's legacy.