Goat meat — it's right up there beside kangaroo, buffalo and camel when it comes to prolific outback animals farmers are begging people to eat. DANEKA HILL reports.
One farmer is doing her part to boost the goat brand and get it onto Aussie plates.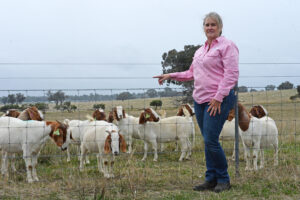 Linda McKenzie has been raising stud Boer goats since 2014 as Boorandarra Farm at Mangalore in northern Victoria.
"We had a neighbour over once and he said the leg of lamb was beautiful. When you tell them it's goat they don't believe you," Linda said.
Boorandarra Farm primarily sells stud stock between two very different clientele — homesteaders looking for a lawnmower and a freezer carcase, and huge outback rangeland goat operations looking for beefy herd sires.
Rangeland is an Australian-developed type of Boer goat usually found running feral over marginal, arid land — hence 'rangeland'.
"To be able to harvest a feral animal and sell them is a really good option (for pastoralists)," Linda said.
"The goats are mustered out of the bush and put on a feedlot for 30 to 60 days before slaughter. Most of Australia's goat meat goes overseas."
Australia is consistently the largest goat exporter in the world, accounting for 36 per cent of global goat meat export in 2019 (97 per cent of that as frozen whole carcases).
The biggest consumer of Australian goat meat is the United States, which imports 60 per cent of Australia's goat meat — equating to $101.6 million in 2020-21.
The next biggest consumer is South Korea, which only imported $19.7 million of Aussie goats that same year.
The majority of Australia's goat meat is feral rangelands, according to Meat & Livestock Australia.
A 2017 study found 71 per cent of NSW goat meat producers were harvest enterprises, while 29 per cent operated managed or semi-managed enterprises (that is, farms).
When Linda was left with excess males and ageing females on her own farm, she didn't look to the US, but instead drafted up a business plan for what became the premium meat brand, Strathbogie Goat.
"I got to the stage where I was getting old ones so I did a bit of market research and worked out what I needed to do to make it viable at a small scale," she said.
"People said I should sell into Melbourne, but I decided I didn't want to sell more than two hours from the farm. I'm in Strathbogie for a reason, not Melbourne, I don't want to be spending time down there."
Her first and best customer remains the Palling Bros Brewery in Heathcote, in central Victoria, which lists goat tacos as one of its most popular menu items.
In addition to local restaurants, Strathbogie Goat can also be bought through the Euroa open food network 'Strathbogie Local'.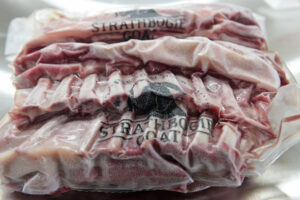 "What we found was that there was no discernible difference after the two-year mark and it all came down to how the animal was treated.
"I also do order-by-demand at a local butcher," Linda said.
"The goats are processed by Hardwicks in Kyneton. I turn up with quiet animals and it's only 10 at a time, not a B-double, so it's easy to get a slot.
"The butchering is done by Taurus Fine Meats and Smokehouse in Seymour."
The demand is high enough that Linda is in the position to buy wethers off other farmers, finishing them on her farm and selling them under the Strathbogie Goat label.
"It helps support them (other meat goat breeders) and gives them somewhere to sell, because if you go to the abattoir they pay the same money for all goats, doesn't matter if it's a farm goat or a high quality rangeland," Linda said.
At any given time Linda can be running 90 to 180 goats across her property which she describes as "rocky" and full of "remnant vegetation".
"It's much more suited to goats here," she explained.
"They don't do well on grass alone; they need leaves and twigs. We've got a lot of native grassland here that we are regenerating and it's our main feed over summer."
In the paddock both the goats and local cockatoos dig for nut grass tubers; in a lowland section, kangaroo grass is expanding as the goats eat the leaves and drop the seed pod onto the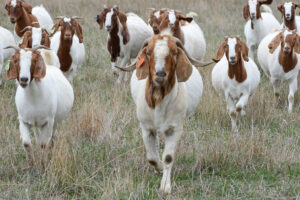 ground.
"It's really hard to find an agronomist willing to have a different attitude to pasture management," Linda said.
"Right now we've established clover under the native grasses, which puts nitrogen in the soil.
"A good example of thinking differently is a block of pasture the last owners had cleared. It was bare earth and instead of spraying out the normal blend I got the soil pH tested and selected seven different types of native grass that matched the pH.
"They established and took off."
Before getting into goats, Linda and her partner Peter had been running cattle on another property.
"When we bought the farm in 2014 it was already running goats and was set up for them. We thought we'd give it a go otherwise we'd have to fork out for some cattle yards," Linda said.
It's mainly used in stews and soups, making it a perfect choice for slow cooker and pressure cooker meals.
"The biggest difference between cattle and goats is the size. Handling is so different.
"I can do everything myself and you're not in danger of being crushed against a fence.
"Peter was away on work recently and it was no issue for me to do everything as a one-man team."
One of the most interesting things to come with the property was a special goat crush that lifts the animals up and gives easy access to the hooves.
"Another difference is that when goats get crook, they give up and die," Linda added.
With a constant supply of goat meat, Linda has been running some experiments.
"A lot of the Italians and Greeks like them younger and everyone was telling me to produce a 13 kilogram carcase but I didn't want to do that," she said.
"I didn't think there was a difference so we killed a bunch of goats from the ages of eight years right down to six months.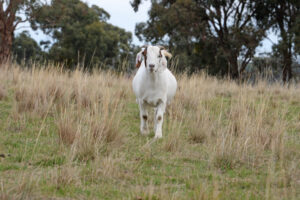 "There is a trend in the industry now of eating old dairy cow steak because it's beautiful, and that's because the cows are treated and fed so well throughout their lives."
Currently Linda grows her animals out to the size of slaughter-weight lambs, since customers are so familiar with lamb-sized cuts.
Another experiment is the commercial kitchen Linda has set up on the farm in an old Vietnam War-vintage building from the nearby Puckapunyal Army Base.
"The commercial kitchen will be open to the community too. It's an easy way for locals to start their own food or catering businesses without outlaying a huge cost and for visiting caterers
to have a space."
The kitchen will also host small events, including goat cooking lessons.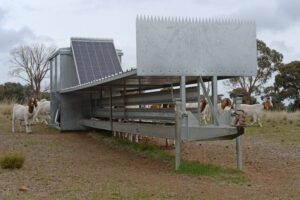 "Like anything, it does cook slightly different," Linda said.
Goat is a lean meat, meaning it dries out quicker than beef and chicken.
In general goat is sweeter than lamb and has a gamey flavour.
Strathbogie Goat carries recipes for each different cut of meat on its website: strathbogiegoat.com.au