Make them polled, turn them black and add a little fat.
This is the challenge Kerang farmer Darren Gurnett has given himself after seeing the massive potential in the French Bazadais (pronounced Baz-a-day) cattle breed.
"Black cattle always sell for more," Darren said.
"The true driver of the agricultural industry is market demand. If you look at any saleyard right now anything black is making extra dollars."
Creating a polled Bazadais was about making life easier for farmers.
"Everyone wants polled, no-one wants horned. It's the way the industry is going and soon you won't be able to dehorn without needing a large amount of medical equipment," Darren said.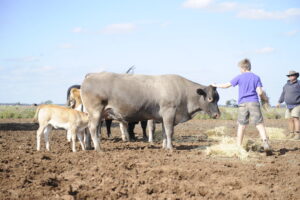 And adding a little fat is for the butchers.
"I was talking to a butcher at the Seymour [Alternative Farming] Expo recently and he said Bazadais was one of his favourite meats to work with. It's an incredibly lean, high quality meat," Darren said.
"He said the only thing which held it back was the fact the fat was so thin that the carcases got freezer burn in the cold stores."
Darren said these days consumers were looking for a fattier product, compared to the old days where lean meat was the 'in thing'.
Darren and his partner Michelle Sutcliff run the Bazadais stud, Gunyado, where they've already introduced some pure-blood polled genetics.
"The EMD (eye muscle depth) on these guys is already huge," Michelle said of the Bazadais.
"They have a doubled muscle look but they are really only highly muscled, which means they don't have the problems that come with double muscling."
Now the plan is to use 20 Angus stud cows to produce a line of fattier, totally polled, black Bazadais.
Using the Black Angus
The Angus stud cows will introduce a solid black colour, good fat coverage and strong polled genetics.
"The aim is to produce something true to type, black and polled," Darren said of the experiment.
"That might take more than four years because it's about breeding the right article four times, not just four straight generations."
When asked if he was nervous about the time he'd have to invest, the beef and sheep farmer brushed it off.
"I've bred poultry all my life. I get more satisfaction out of breeding a good animal than winning at shows."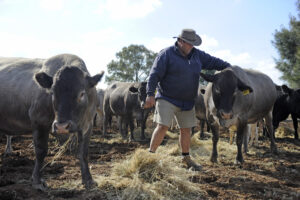 Darren said his Nutrien Ag agent was convinced they'd have no trouble selling the first-cross black bulls as herd bulls.
Bazadais often shows up in the Australia beef industry as first-crosses, often mixed with Brahman to produce an excellent carcase for farmers
in drier climates.
Preserving the pure stuff
Michelle said the pure-blood Bazadais genetics would always be preserved.
"We don't know in the future if that full-blood stuff will be needed to pivot in another way," she said.
"Fifty years ago in Australia they would've said every sheep in Australia should be a Merino.
"If other places hadn't preserved their breeds we wouldn't have the ability to diversify like we (the sheep industry) have done."
The Kerang farmers, who also keep stud Tamworth pigs, have seen this loss of traditional genetics first-hand in the pig industry.
"The normal PIC (Pig Improvement Company) pig can't go out under the sun because they get sunburnt now and they can't handle the heat or cold," Darren said.
"Compare that to an old-style Tamworth, which is a long-haired animal built for free-ranging.
"We've probably got two-thirds of the Tamworth pig genetics in Australia here on the farm. There aren't many left because you can't import pigs like other animals."
The Bazadais point of difference
The Kerang couple has been involved with Bazadais for six years.
Darren said after getting some Bazadais in the paddock he was impressed by their performance.
"They've got the highest bone to muscle ratio of beef breeds and that's where they run rings around the competition.
"There might be other breeds with more mass, but the money is in the muscle, not the bone."
Michelle said the Bazadais had stood out after they came across the breed on Facebook.
"When we first saw them we did some research and really like their point of difference. They're good mums, easy calving and fast growth," she said.
"When I was researching the Bordeaux region they come from in France the climate sounded similar to us. They have a dry period and get a frost with not much rain."
The couple's original plan was to use Bazadais semen across their commercial cows, but with two of the last Bazadais stud herd owners in Victoria scaling down their involvement the Kerang farmers found themselves inheriting about 20 pure Bazadais cows.
"Faye (Tuchtan) was getting out of it and she said I could come and have my pick," Darren said.
"And Ros (Denney) was switching to Bazadais and Waygu crosses for her paddock-to-plate business."
The pair also acknowledged the role Queensland breeder Kahn Vietheer of Primeiro Bazadais has played in creating a polled Bazadais product.
Kahn's Primeiro Bazadais stud is focused on creating homozygous polled pure Bazadais cattle.
Darren said after countless hours of phone calls, video calls and swapping genetics it was strange to think he and Kahn have never met in person.