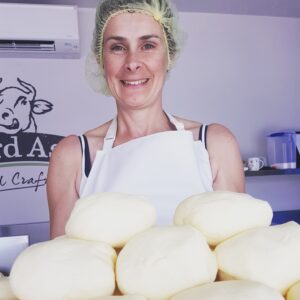 For a girl who couldn't wait to get away from early-morning milkings on the family dairy farm, who headed for the big smoke and an upmarket marketing degree, Monica Cavarsan is back in the dairy business — and next stop may well be back on the family farm with a new project, writes ANDREW MOLE.
Monica Cavarsan heard it so often around the dinner table on her family's dairy farm near Timboon in western Victoria.
Her brothers mocking her and her sisters if they had some extra cream, cheese, milk or butter.
"If you have any more of that you'll get a lard arse," they laughed.
They were wrong, as it turns out.
And right.
Sort of.
Because, serendipitously, Monica has developed a Lard Ass.
A thriving little buttery, where truth in marketing won out and Monica, tossing around for a name for her planned business, suddenly remembered those childhood taunts.
"I didn't want 'arse' but I still didn't think I had any chance of getting 'Lard Ass' through as a business name, but nobody raised an eyebrow," Monica laughed.
"The only real problem I have with it now is when I do banking, and tag transactions with the company name — and the bank's security rejects me as an unsuitable word.
"So I have to run them together as one word to get it through."
But that's about the toughest thing which has happened since she launched her thriving little enterprise seven years ago.
And if things have been moving quickly, at the end of March they hit the seriously fast lane when Lard Ass was contacted by the Melbourne Formula One Grand Prix to deliver 300kg of her cultured and flavoured butter for the pampered folk in the A-list marquees.
Monica said she set out to set up a small business, with her cultured butter made on a small scale so flavour, texture and ingredients were all quality.
Big, as she puts it, on taste thanks to ripening cream from grassfed cows.
"Once you try cultured butter you won't go back to ordinary butter," Monica said.
"Our butter is made from single-batch churned cream after ripening with a starter long enough to bring out flavour, then hand wrapped."
Nothing over-processed or mass-produced in sight.
Instead Monica, the dairy farmer's daughter, who grew up surrounded by the creamy goodness of fresh milk and churned butter — and "proud of my Italian heritage where food was grown and sourced locally" — decided to introduce those beyond her family's farm gate to the cultural delights her parents Bertilla and Antonio brought with them from Italy.
Lard Ass, she says, "grew out of a yearning for simple, goodness bringing back great taste in butter".
"My butter values the simple, age-old approach to creating tasty, creamy butter using European imported cultures.
"We single batch churn cream, ripened to produce a flavour that is rich and creamy.
"With a high butterfat content, cultured butter is ideal for cooking, baking or simply devouring on fresh sourdough or crackers. It looks and feels like butter with a fresh hearty taste.
"We add the lactic bacteria before we churn, and then the natural fermentation takes place in the next 15 to 24 hours, depending on the temperature and even the time of day and of the year.
"It feeds on the lactose, the sugar in the milk, and it sours off the cream, that's what we churn — unlike store-bought butter, which has a pH around 7, we need to get it down 4.8 or 4.9, to make the mix more acidic, and that helps create the true buttery flavour.
"As kids we got ricotta, butter, milk, cream, salami — Dad even ran pigeons and chickens and they all finished up in the pot — plus his vegies. It's just what we did on the farm."
Originally, all Monica wanted when she left for university was the opportunity to sleep in every morning — for the rest of her life.
Parents on dairy farms don't have children, she says, "instead, in our case, they had six little human resources".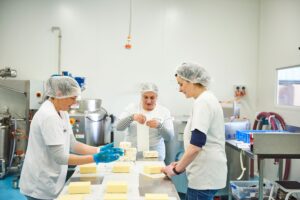 But Mum and Dad got the last laugh — Monica might not be milking cows right now, but she is up much earlier than her brothers, who still run the family farms, milking close to 800 cows.
"Clearly as a family we had the cultural connection to our family back in Italy, but I don't think Dad saw the commercial opportunity to do things on-farm back then," Monica said.
"He was pretty flat out with the milking and getting each day's production off to the dairy, but for all my plans to get off the farm, I find I am now being drawn back.
"The next thing I have on my schedule, as we move forward, is bottling our own milk, an un-homogenised single-origin product, and I have been speaking to my brothers about it just recently."
Moving forward is certainly the catchphrase at Team Lard Ass — they might have started small, with just the one 800-litre churn, but they are now adding a 2000-litre one as well.
They are already producing as much as 1.5 tonnes of butter a week, every week, and it's nowhere near enough (which is why Monica has also signed on to add the factory door to her existing Ocean Grove address).
Online, through stockists, a raft of farmers' markets and now the A-list scene — as fast as Monica and her team (which includes husband Mike, who says he doesn't get enough credit for all his work behind the scenes) can churn, knead and wrap the 225g, 500g and 2kg blocks of butter — it flies out the door.
And Mike aside, Monica's whole team is an all-girl outfit she describes as "pretty awesome chicks".
"What we really enjoy is about 75 per cent of our customers are repeat buyers and it is their marvellous support which has been a cornerstone of the business," Monica added.
She almost forgets to mention that on top of her award-winning butter, and her plans to go down the single-origin milk path, she actually has another product on the market.
Ghee.
More formally, Goodness Ghee.
"There's still a lot we can do with cream, but in this case we have opted for what is basically a clarified butter, from which we have removed all the milk solids and lactose, which creates a shelf-stable product, good for at least 12 months and it doesn't need refrigeration," Monica explained.
"It has a certain nuttiness in flavour, and is very popular throughout Asian cuisines. In India it is used, for example, in so many dishes and is in big demand."
Which explains why, as with the butter, the Goodness Ghee is also flying out the door and Monica can't make enough of it.
Mind you, if Lard Ass doesn't go the distance, Monica does have a Plan B up her sleeve.
University gave her a degree in PR/marketing.
Her interest in cultured butter took her to a cheesemaking course in France, where she visited that country's Bordier Creameries to get a better idea of the rich, creamy style of butter that's under-represented in Australia.
From there she did the cheesemaking course, to get a better grasp on using cultures, before switching continents and joining an official 'full butter-making apprenticeship' at the University of Wisconsin, before trialling different cultures and creams on her own to nail the perfect flavour.
"You can't make butter in Wisconsin unless you have this apprentice qualification, this ticket," Monica said.
"So if, for any reason, we end up not making butter in Victoria, we can also do it with fellow graduates in Wisconsin."