Running a beautiful, bespoke boutique flower and florist business on the Scenic Rim at Kalbar in Queensland has been a dream come true for Rachel Watkins, although the dream does come with a rather hefty dose of hard work, she told SOPHIE BALDWIN.
Not that Rachel minds. She has always loved getting outside and growing flowers is a passion she has only recently been able to pursue, after COVID-19 forced Rachel and her husband Fred out of a horse business they had been involved in for 22 years.
''I have always loved flowers and I thought it was time to do something for myself, and here we are with Elderflower Farm happily taking up most of my time," Rachel said.
Growing up in Claremont, with a mum who was a lover of old-fashioned flowers, instilled in Rachel from a young age a love that burns brightly today.
While Elderflower Farm is still evolving, the core of the business is centred around old-fashioned flower varieties, the addition of a farm shop, homemade products, a retail line, bouquets and workshops have all added to the business.
As a qualified florist and horticulturalist, Rachel said the addition of workshops had been extremely popular and most weekends now featured some sort of event.
"One of the best jobs on the farm is heading out into the flower fields and picking a gorgeous bucket of blooms and creating something beautiful with them. I love sharing my obsession through regular workshops at the farm and the customers seem to love them too because they are very popular," Rachel said.
Workshops are updated regularly and usually run for a couple of hours and include picking your own flowers.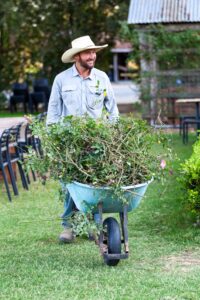 Workshop topics and flowers do change, dependent upon the season.
With two distinct seasons, Rachel grows old-fashioned annuals including sweet peas, snap dragons, stocks, ranunculus and fox gloves in the cooler months and flowers like zinnias, lisianthus, cosmos, dahlias and heirloom chrysanthemum in the warmer weather.
She also grows edible flowers including viola and pansies and produces her own range of teas including rose and apple mint and pansy, pea flower and peppermint to name a few.
"Everything we do is seasonal and things do vary, but the teas have been an extremely popular line for us," she said.
The flowers are all grown in 28 beds, 16m long and 1.5m wide.
There are also six raised beds all tended by Rachel and Fred.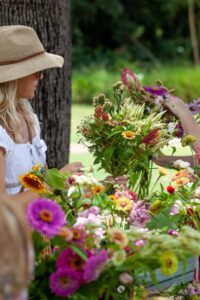 "Initially I started growing flowers at home, but the opportunity to lease this half acre plot, with a café on site in June 2021, was an opportunity too good to pass up," Rachel said.
"The location has been amazing and the fact this site used to be quite a famous rose farm (Bartons) also helps."
The flower field is surrounded by a 300m briar hedge and there are still some lovely old roses which add to the picturesque setting.
"Initially we weren't going to open the flower field to the public, but people absolutely love to wander through the flowers and get up close to them," Rachel said.
"Sometimes, depending on the season, we also host pick your own days, but these are definitely seasonal and only available at certain times of the year."
While Rachel might be the creative mind behind Elderflower Farm she wouldn't be doing what she is without the help of her team.
Fred works tirelessly in the field and is the go-to for anything which needs to be built or fixed, while Esther is a qualified horticulturalist who brings a love of all things plants to the business and retail experience.
Tammy works in the field and is now chief flower picker.
Stacey, a qualified florist with many years of experience, creates bespoke arrangements for all kinds of events, while Jo is the creative brain behind the shop's visual merchandising.
"We have two juniors, George and Ruby, who keep up with product packing and any other shop jobs," she said.
"We have been working at it for a couple of years now and it is probably time to sit down and have a good hard look at the retail business.
"Some of the things we do are time consuming, but it is really hard when I love everything we do."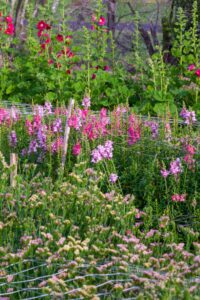 Surprisingly, one of the most popular products Rachel sells through the shop is lollypops.
''I saw an English blog one day and these people were making lollypops with dried edible flowers. Initially I just made them for a bit of fun, now I joke to Fred we will probably be able to buy our next property funded by lollypops — their popularity has been amazing," she said.
Other popular items include flowers sold by the stem, homemade bath salts and their own range of seeds and seedlings.
"The community has really embraced our little business and it has been wonderful," she said.
Elderflower Farm is open to the public at 541 Kent's Lagoon Rd, Kent's Lagoon, Thursday to Sunday, 8.30am to 4pm.