Inside the Old Errowanbang Woolshed, the names of three 1907 Melbourne Cup runners are written in fine cursive on a wooden beam.
The looping handwriting is just visible 116 years later, listing Dyed Garments first, followed by Poseidon and Mountain King.
The shearer who recorded his Cup picks more than a century ago missed out on a trifecta, with only Mountain King finishing in the top three.
It is one of many moments frozen in time inside the heritage-listed woolshed, built into the curves of a hill near Carcoar, in central-west NSW, in 1886.
A dusty pair of shearer's felt moccasins sit on a wooden ledge, while men's names, their home towns or sheep counts are drawn or lightly scratched on almost every surface.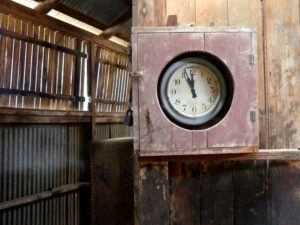 Near a row of shearing stands, a clock hangs inside a locked box, its hands still at three minutes to 12.
"It was locked to stop the rouseabouts turning the clock forward to knock off early," the woolshed's owner Jann Harries said.
The labyrinthine structure is thought to be one of the most unique woolsheds in Australia, with four sprawling levels held up by bluestone pillars.
Jann took on the property in 2011 and is a dedicated custodian, determined to preserve the shed and its precious relics.
Her father-in-law, who died in 2001, was awarded the land in a post-war soldier settlement scheme.
Despite its significance, she has been unable to secure heritage grants to fix the roof and replace its leaning stumps.
"My father-in-law wanted to keep it maintained," Jann said.
"He wasn't going to let it fall down around his ears while he was alive.
"It's an amazing building, so the passion is there for me to make sure that it doesn't fall down around my ears either.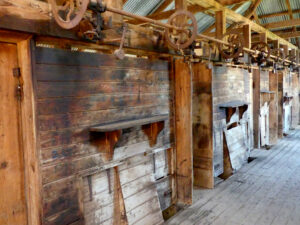 "It would be tragic to see it disappear."
Once considered the region's best-kept secret, the shed was open to the public the weekend of September 23 in a rare event to help fund its upkeep.
Visitors were able to tread the storied floorboards and walk past the 40 shearing stands, once the site of lively record attempts and union disputes.
NSW Heritage describes the woolshed as a place of significance for its deep links to pastoralist history.
"It is perhaps unique in Australia in being built over four levels creating a complex but highly functional structure where each stage of the shearing and sorting process … has its own distinctive space," the heritage entry reads.
"The quality of workmanship in the construction of Errowanbang Woolshed is probably unsurpassed in Australia."
The property itself is steeped in colonial Australian lore.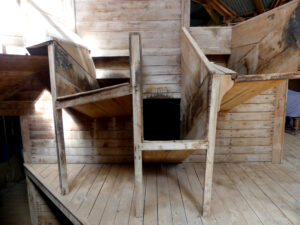 A homestead built by convicts for the younger William Lawson, the son of the early explorer, sits 500 metres down the hill.
The house was built in the late 1820s with stringybark shingles, cedar joinery and homemade bricks packed with cow hair and mud.
A meticulously etched "Lawson" is a ghostly presence on a window pane.
When Jann opened the corrugated iron woolshed door to visitors, she wanted people to feel the past come alive.
"The woolshed shouldn't be hidden away — it's part of our history and history needs to be shared."