Michelle Brady has made it her life's work to share the joy of growing plants from seeds, long before indoor plants were Instagrammable and COVID-19 created a gardening renaissance in the locked-down population.
A Brisbane native who grew up in a leafy suburb, Michelle Brady is a creative so-and-so who, a dozen years ago, packed her green thumbs and moved to Melbourne to work in marketing.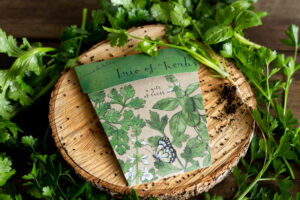 "There was a launch for a new bar and we'd hung lots of plants from the ceiling, this was before plants became massive in interiors," Michelle said.
"I arranged to give out packets of rocket seeds to guests with the bar brand printed on them, a little promotional take-home gift."
Great ideas in Melbourne bars are a dime a dozen, but Michelle's idea bloomed.
"People loved it. The concept was new and cool and then it dawned on me that I could couple my love of gardening with my creativity and give the gift of seeds."
And so, the seeds of Sow 'n Sow were sown.
Today, at home on her permaculture farm outside Maleny back in Queensland, Michelle is wandering through two hectares of Garden-of-Eden style groves — pineapples, custard apples, pecans, bananas, avocados and lychees.
Her partner and their two daughters are busy elsewhere as she reminisces about finding the farm, her passion for growing plants palpable.
"Our jaws were on the ground when we came to look at the property.
"The volcanic soil is magic and the property exists within its own micro-climate, which is incredible for farming.
"It is so easy to grow flowers and trees here, my girls are forever planting packets of seeds and wherever a seed lands, something will appear."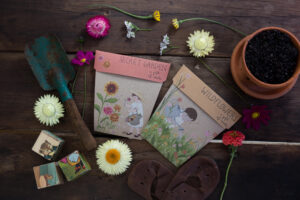 The Sow 'n Sow seed packets receive the nod of approval from the ethical gift industry as the seeds are non-GMO and non-hybrid, while the paper stocks are 100 per cent recycled and packs are compostable.
Michelle sources the seeds from Australian suppliers and uses illustrator Daniella Germain to design the seed packs.
She didn't realise just how COVID-proof her business was until it went "gang-busters amidst the pandemic".
"At first things went quiet due to lockdowns as most of our business is wholesale and our stockists had shut up shop. But then they pivoted and went online and we had a really good two years."
Sow 'n Sow employs a full-time marketing and studio coordinator and three people who hand-pack the product and the orders.
The use of local people and products meant the business wasn't impacted by the freight issues or import shortages that put the handbrake on so many industries during the height of COVID-19.
"We became the perfect gift to give — anyone could post a packet of seeds and it gave people something to do, to lift their spirits."
While gardening underwent a resurgence and the business was able to scale-up to cater to the demand, Michelle is somewhat relieved it has calmed down.
But it hasn't always been sunshine and fertile soils for this entrepreneur, who started out in a spare room in Northcote, Melbourne, balancing a full-time job and a demanding side hustle.
Michelle gradually wound back to part-time and poured her time and energy into giving 'gifts to grow'.
Finally, she resigned from her job and lived off some savings to see where her seed of an idea would take her.
"In the first year I made next to nothing, but the pieces started to fall into place," she said.
The business is now in a position where she has the time and flexibility to be available for her daughters, who are four and eight and who also revel in their mother's love of a garden.
"They are forever turning petals and leaves into potions and perfumes in their fairy garden," Michelle laughed.
"I think I have found a good balance," she said, explaining how her team handles the day-to-day and often go above and beyond when they need to.
This means there is plenty more time in the day for watching her children and her garden grow.