Rocket Seeder has taken on its third group of agriculture-based start-up entrepreneurs, and ANDY WILSON spoke to the brains behind two of the 14 new projects.
Directly linking herb growers to retailers and customers in real time may not seem like a priority in the herb industry, due to the widely accepted seasonal and cyclical nature of their product's cultivation.
However, Naomi Ingleton sees the need as something necessary to enhance herb production in Australia.
"I'm creating a platform for medicinal and culinary herb growers to be able to find a path to market for their produce," Naomi said.
"It's so they can keep tabs on supply and demand as it changes over seasons."
Naomi's project is one of 14 initiatives participating in Rocket Seeder's third cohort of agriculture-based start-up entrepreneurs being mentored through the LaunchVic-funded organisation.
She operates Farmacy Co at El Dorado, which specialises in herbs and herb products, which she makes from locally-sourced plants.
She also runs hands-on herbal medicine workshops but is now turning her attention to some online wizardry, away from her more druid-like occupation.
"The online platform will allow the end-user customers to be able to connect directly to the growers, so there's a level of transparency in the industry.
"It is also creating a place where growers can go for advocacy."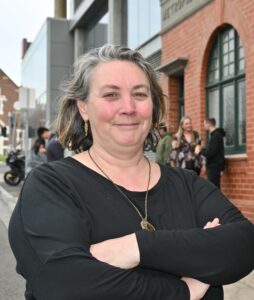 Far from the hands-on work of the herb paddock, two women with no background in agriculture are starting up Buzz Certified, a conceptual model for counting native bee numbers across the eastern states.
"We are looking at encouraging the use of Australian native bees for pollination services in Australia," co-founder Jessica Nehme said.
Start-up partner Mary-Anne Macafee brings to the project her experience as an enterprise leader for internet infrastructure along with her passion for sustainable agriculture.
Jessica describes herself as a serial start-up entrepreneur who has established mentor-based programs.
Mary-Anne said recent research suggested bee numbers were still decreasing.
"This is especially true for Australian native bees," she said.
"What we're aiming to do is figure out a way to count bee populations, measure progress and promote the use of native bees in food pollination because they are responsible for pollinating one third of the food we eat in Australia."
Native bees have been found to supplement pollination and fruit set in food crops, regardless of honey bee numbers, with one study finding plum pollination in the Goulburn Valley was enhanced by native species.
Native bee species are not cultured for honey.
Jessica said the pair was motivated to start Buzz Certified after the 2019-20 fire season when they became aware that at least seven species of native Australian bees were added to the endangered list.
"Native bees are more difficult to breed because most species are solitary, and not like the native sugarbag bees that make less honey per year compared to European honey bees, but still live in hives," she said.
The duo's philosophy is that it's a first step in nurturing bee populations.
"Once you can measure something, you can manage it."