Isobella Stillard is discovering that hands-on work in her parents' persimmon orchard is the best education a school leaver can get. Plus, you can take your dog to work, writes CARLY MARRIOTT.
"There's so much pressure to finish school and go to university immediately, but I think spending time working is how you learn what you love and what you don't," Isobella Stillard said while walking through the six-hectare orchard near Barooga in southern NSW.
Twenty-year-old Isobella is the sixth generation of Stillards to farm and is as passionate about the horticulture industry as her parents Chris and Belinda Stillard, who run a mixed irrigation operation on 265ha.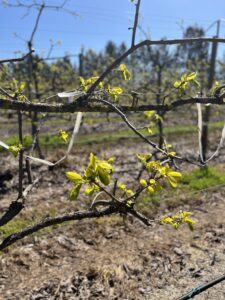 "I did two years of a Bachelor of Agricultural Science online thanks to COVID and it was a bit of a blur. Now I'm spending this year working at home and have decided to transfer to a Bachelor of Horticulture online next year through Charles Sturt Uni," Isobella said.
So what does an average day on the farm entail for Isobella and her German short-haired pointer Poppy? "I just do what I'm told," she laughed.
While the orchard is a small part of the farm that also grows lucerne, cereals and lambs, it is big in labour requirements, keeping the family and staff busy year-round.
The demand for persimmons, a high-value sweet fruit, is huge on the domestic and export market.
This insatiable demand for the niche fruit coupled with the next generation's interests in the operation has meant the Stillards are set to expand their 5000-tree orchard in the coming years.
In terms of hands-on experience, you can't get much more involved than in a fruit packing shed, which is where Isobella works on quality control.
"We pack persimmons in May and this year we packed a local pomegranate farmer's crop as well. I loved learning about them," Isobella said.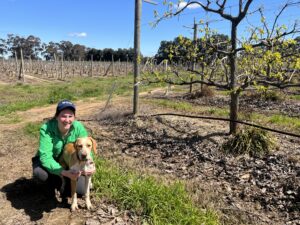 Thankfully, Isobella possesses a hidden talent for spotting 'black heart', a disease that rots the fruit from the inside out and is otherwise undetectable.
"I don't know why, but I could just spot them, which was lucky!"
According to Isobella, quality control must be up to scratch.
"It's by sight and it's by size, between the grading machine and whoever's doing quality control, you need the fruit perfect; no marks and that desirable medium-sized fruit is what the markets want."
Once the fruit bins are graded and packed into pallets, they are trucked to the Sydney markets, eight hours north, or the Melbourne markets, three hours south. Five per cent of their crop makes it to Malaysia, Singapore and the Middle East.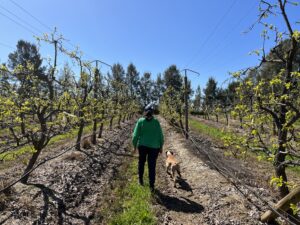 This year the Stillards packed 120 pallets of persimmons — their biggest crop yet. After a brief break Isobella was back into the orchard to prune the trees.
"We make sure the top branches don't cover too much of the lower branches, which is to allow the light to make it through to the bottom branches," she said.
"We do a general clean up so the trees are tidy and another prune in the summer to reduce some fruit on the trees after the trees themselves do a natural fruit drop.
"We also use a type of tie to support branches that will snap when the fruit gets larger and heavier."
While Isobella is learning on the job she is keen to recommence her studies to complement her practical findings.
"I enjoy learning about soil, how everything works. If you don't have healthy soil you won't have healthy plants.
"Horticulture is a visual thing, it's very rewarding sight-wise, you can see how your work impacts how the tree or the fruit look."
Her pivot from agriculture to horticulture is a slight one but it's an important one, as it will fine tune where her interests lie.
"The more I learnt about elements of agriculture such as livestock, the more I realised I wanted to learn about horticulture."
This process of elimination may well be the purpose of your 20s and in Isobella's case, she may be ahead of the curve.
When asked what the future holds for this hort-enthusiast, she laughed.
"Oh I have no idea, I hope to work on the persimmons when Dad is ready to give it up, which will be never!"