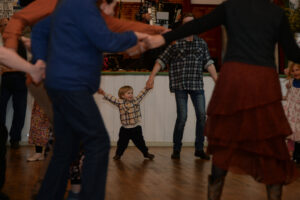 One tiny community in northern Victoria is fighting to keep the doors open to its public hall. It's a story repeated across regional Australia, as shrinking populations threaten the viability of public facilities. DANEKA HILL reports.
Once a month, the wooden floorboards of the 102-year-old Wyuna Memorial Hall in northern Victoria start to bounce with the stomping of shoes, heels and workboots.
The Goulburn Valley Traditional Bush Dance attracts a large crowd of children and beginners looking to learn the basics and get caught up in the atmosphere.
John Russell started the bush dance group in 2017 and now works as the dance caller.
"I have seven children of my own between the ages of 13 and 30 and I wanted to give them something to do that wasn't going to town and being around alcohol," John said.
"I was lucky enough to do a lot of bush dancing when I was a kid in Lockwood.
"We used to have a dance every Saturday night. I started dancing when I was 17 and I haven't stopped."
A $10 door charge goes towards keeping the Wyuna Memorial Hall alive after it was closed by Campaspe Shire Council — forcing the community to buy the hall to keep the doors open.
Right now, the bush dances are the only regular events at the hall generating a profit.
"The dances started as something healthy for kids to do, but now it's about saving the hall," John said.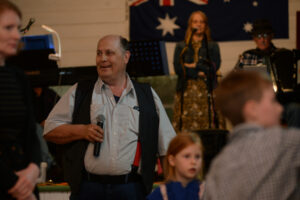 The door charge goes towards insurance fees, maintenance costs and utilities.
"We (the Wyuna Memorial Hall Committee) are trying to build little events back into the hall," John said.
"Ten years ago when the council ran it, there was nothing on. Now we're having weddings, anniversaries, CFA and Landcare meetings here."
Dairy farm worker David King has been attending the dances since day one.
"We were going really well with numbers before COVID. Now we're trying to build it back up," David said.
"Young guys are the hardest to get, they are too chicken s**t to dance."
David described the dances as a way to "keep history alive".
"Bush dancing was done by Irish settlers and it was very informal," he said.
"It's very larrikin. It's in the sheep shed, someone has a fiddle and you just get up and dance for fun. It's not like English settler dancing, which was more strict."
Also attending on the night was an Undera family of 12 children (child number 13 stayed home), their friends from Mt Gambier who brought along six children, a Kyabram family of four (their granddad was playing the 'squeeze box' aka accordion on stage) and several pairs of friends and couples from Elmore, Shepparton and Echuca.
Elizabeth Slee is mother to the 13 children, who she home schools.
"The dance is great for us. We've been coming for three or four years now, ever since it was a regular event," Elizabeth said.
"It's heaps of fun and everyone from the little ones to the old ones love it. It also has excellent airconditioning for summer."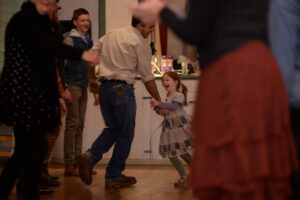 John said young people liked the "quicker and more larrikin" dances best.
"Dances like Strip the Willow, Gallopede and The Drongo," he said.
"The older people love the slow-tempoed and old-time dances."
The bush dances run on the third Saturday of every month, starting at 7.30pm and running into the night.