On a farm in southern NSW is a bowerbird who lovingly collects beautiful objects. But instead of the feathered variety hoping to impress a mate, this human gatherer sends all her treasures away.
Hannah Gray is a true bowerbird.
She loves nothing more than flitting from spot to spot, collecting bush tucker, clever on-farm products, tasty and sweet treats, and the list (and the fossicking) goes on.
Then she puts it all together — all sorts of locally grown and/or made goodies — to create something singularly Riverina (even though she started life on a Benalla sheep farm).
"When I'm working on my gift boxes, I'm in my happy place," Hannah beamed as her two boys, Charlie, 9, and Max, 5, played boisterously.
When she met husband Paul in 2010, and he convinced her she was meant to be a Riverina bird, Hannah brought with her not just a farm upbringing, but also an inherent creativity.
On her family's farm, like most country kids, she learnt early the value of hard work and the importance of knowing where your food and fibre came from.
"I started working with my dad as a kid and I picked up on the necessity to buy local or Australian products. That really paved the way for the creation of Bowerbird Gift Co," Hannah explained.
According to her digital platforms "Bowerbird Gift Co curates locally sourced products into convenient, quality gift boxes for every occasion". Which is a win-win for the suppliers of all those goodies and the lucky recipients, whether it's for a thank-you, birthday, end-of-year teacher gift, Easter, Christmas, anniversary — or apology.
Hannah enjoys delivering customised boxes, such as her sheep farmer box — which comes with sheep socks, a kelpie stubby holder, rough hand cream and a sweet treat after a long day in the yards. Talk about knowing your target market.
Our Riverina bowerbird is also a crafty one, the sort of woman who can rattle off her diverse skill set like a shopping list — photography, floristry, quilting, embroidering and sewing.
"My gran was a dressmaker. Since I was 10 she would put me on my own machine and off I went for hours making things, I loved it," Hannah recalled.
However, like most hobbies, it is hard to find the time to prioritise them as the day-to-day tends to swallow up all the waking hours.
Hannah has in the past run a photography business, Twisted Wire, but when she weighed up the time it took for shooting and editing, it didn't stack up economically. Plus having two young boys present during both stages of the process didn't quite work either.
Which is why her gift box business really ticks the boxes — those boys can finally be a helping hand (as much as young boys do). Charlie is her chief recycled paper shredder and takes great pride in helping her assemble the cardboard boxes she sources from Deniliquin Party Hire.
"I could get them online, but again, support local," she said.
Hannah has been overwhelmed by the support she has received from her suppliers.
"I have always bought gifts and items from my suppliers. These small businesses deliver a high level of quality and they are mostly family-owned regional businesses. But now I do so on a wholesale level.
"A lot of them are female business owners and I think they just get it — they want me to succeed. It's a nice confidence boost."
Ros Vodusek, at Rich Glen, creates her own produce hampers, but was happy for Hannah to add her Rich Glen products to the Bowerbird Gift Co boxes as well as connect Hannah with some other like-minded suppliers.
"The cross-brand promotion works wonders for everyone," Hannah said.
"I have clients get a gift box with Rich Glen hand cream or herbal tea and then they keep buying that product, it becomes a staple of theirs. Ros is a real advocate for promoting local producers."
Another big supporter of the business has been Finley newcomer Tori Morley, who has helped perk up town by opening the local coffee shop Bay Laurel, in which she is happy to be Hannah's public showcase.
Her shop also doubles as an old-fashioned 'poste restante' where Hannah can drop off gift boxes for customers to collect at their leisure. It's just the bush network delivering the goods.
And on their 'hobby farm' 20 minutes down the road, Hannah also home-schools her boys between packing boxes and sourcing contents.
It's also where Paul bases his fencing, fabrication, concrete and livestock transport businesses — and where they run their trade cattle enterprise.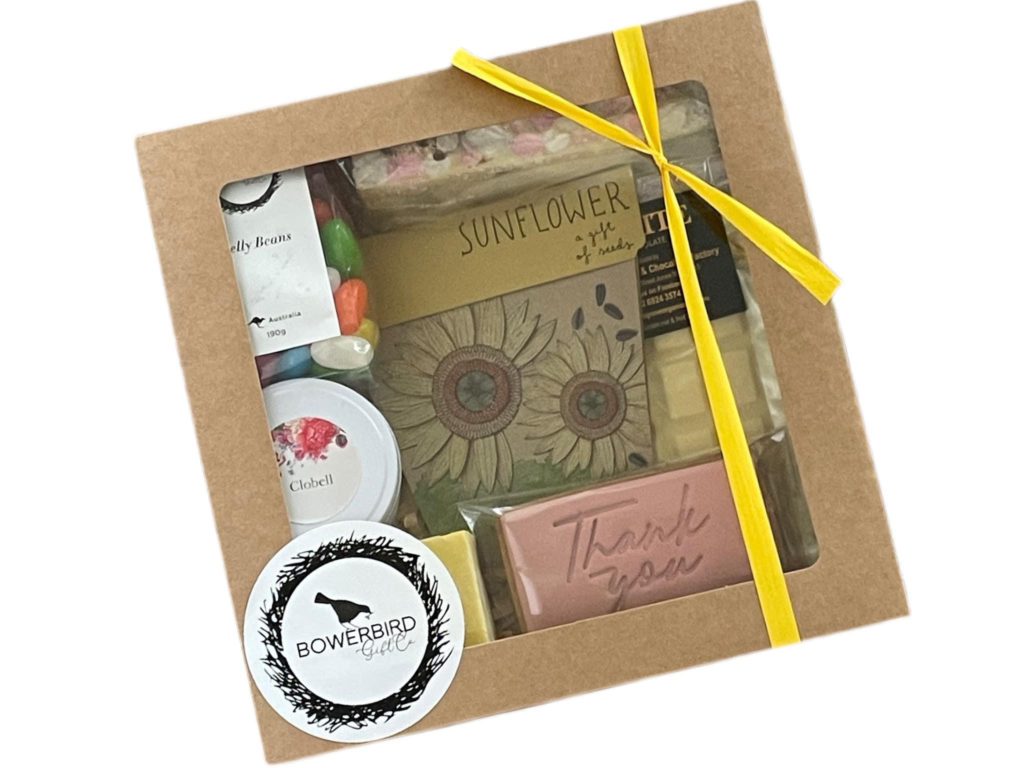 "Thanks to the girls at Hen's Teeth Trading in Cobram, I have a new display shelf that makes me smile, because I can get busy making beautiful gift boxes and I love that I can pursue this while juggling all the other balls that are in the air," Hannah said.
Her boys are well aware of the quality of the product being pulled together under their roof and are more than happy to share their grief at seeing all these marvellous compilations heading out the front door for much luckier people, remorseless in their chants of neglect and why Mum would make so many good things — and send them to other people.
Until later that particular day of mock protests the boys came back from running their dirt bikes around the farm to find their very own — and very individually customised — Bowerbird Gift Co boxes sitting at the foot of their beds.
Which, if nothing else, proves one thing — there really is a box for every occasion.