Fifty years ago, a Gippsland farmer told Julian Benson he'd never make it as a dairy farmer.
Instead of being deterred, the young lad who grew up in Broadmeadows used the criticism as a spur.
"That was probably the biggest incentive I've ever had; it made me more determined," he said.
Julian was inspired to become a dairy farmer by visiting his uncle's farms in school holidays and he has no regrets as he celebrates his 50th anniversary in the industry.
Today, as he nears the age of 73, Julian and his wife Dianne are in a sharefarming agreement with son Luke and considering the next step of selling the farm, but they plan to continue running their successful and expanding Apostle Whey Cheese business.
The Bensons have made a career out of turning adversity into opportunity.
Stung by the early criticism, Julian worked on different farms to learn the trade and studied a Diploma of Agricultural Science at Dookie from 1967 to 1969.
"I tried different jobs but when I sat down and thought about what I was happy with, it was milking cows," he said.
"I loved being among the cows and also being in the environment."
He married Dianne in 1975 and they bought their initial herd of 65 cows for $7500. A market collapse three months later could have been a disaster but they turned it into an opportunity.
"The silver lining was that you could pick up two-year-old heifers in-milk for $20 who would pay for themselves in six weeks," Julian said.
They soon had to get to a bigger farm and build up stock numbers, so leased a property for four years, expanding to about 150 milkers.
When it came time to buy, an acre cost about $2000 in Gippsland, $800 in the Heytesbury Settlement. Simple economics drove them to south-west Victoria.
They bought a farm in 1981 and added more land in 1988 and 1992, peaking at 350 cows, and in 1994 put a tunnel under the road to connect the property.
In 1996, they built a 50-unit rotary dairy to accommodate potential further growth.
"It was probably worth as much as the farm, but you've got to be looking forward," Julian said.
However, that positive outlook was dampened in 2003 by a severe drought, low milk prices and grain costing more than $500 a tonne.
"Dianne said we should be doing something about all these people dropping in to see our cows milked.
"I was watching
Landline
(on ABC TV) and saw a segment about sheep and goat farmers making cheese for farmers' markets so we decided to have a crack.
"We're on a main road going to the Twelve Apostles; if we had been on a back road, it probably wouldn't have happened."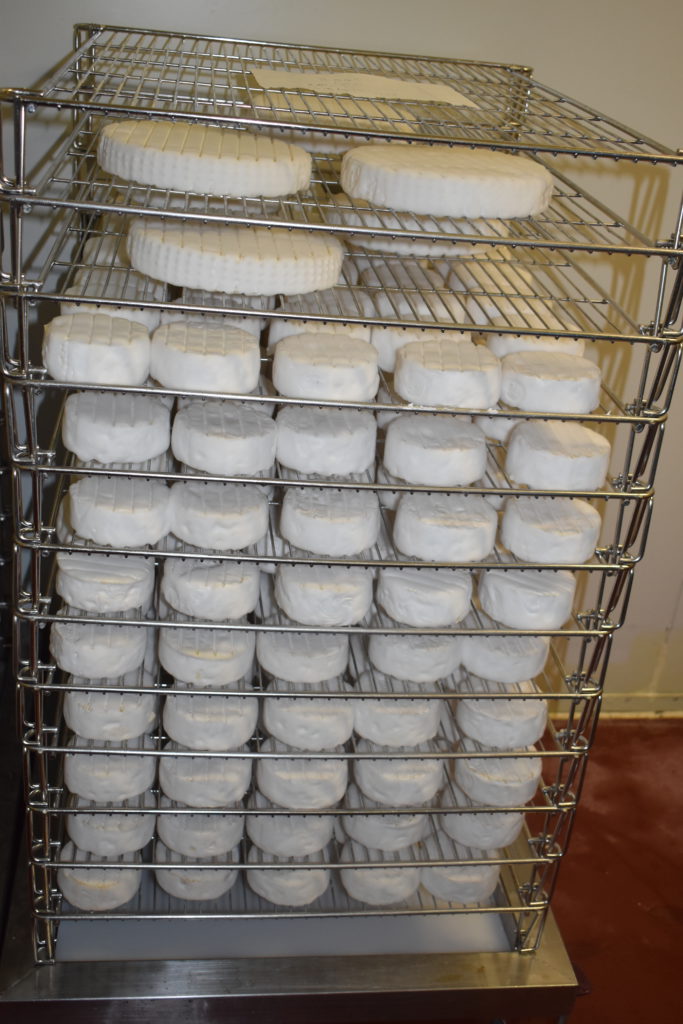 They completed a cheesemaking course and consulted neighbour Melonie Pollock, who worked at another artisan cheesemaking business, Timboon Farmhouse Cheese, and later came on board as a cheesemaker.
They had a Friesian herd but wanted more butterfat and protein — so introduced Jerseys.
"We wanted higher butterfat and protein to get more yield," Julian said.
"For the same amount of energy to pasteurise, with a Friesian herd you might get 100 kilograms out of 1000 litres but a mixed herd you get 120 to 130, and I think you get more flavour in the cheese. It makes a real good coffee!"
Prior to the change they were calving in mid-July but changed to a split system in February and July to ensure good milk supply all year.
They started in 2005 with a batch pasteuriser, only allowing cheese to be made twice a week, but later installed a high temperature, short-time pasteuriser to make cheese four times a week to keep up with demand.
When starting the cheesemaking business, the Bensons supplied Murray Goulburn.
"We only used a small amount of our milk but MG was going to charge us for what we took out of the vat," Julian said.
"I said bullshit to that and we went to Warrnambool Cheese and Butter who said you take what you want, we'll take the rest. At the time we were producing about 2.4 million litres."
For the first three years, every weekend was spent selling blue, white mould and semi-hard cheeses at markets along the Great Ocean Road and in Melbourne, Geelong, Ballarat and Port Fairy to expose the Apostle Whey brand.
They also entered dairy industry competitions, winning six major awards among many others, and enjoyed a lot of positive media coverage that helped to build a reputation.
Tourism is a big part of the operation. They have a number of distribution outlets, make their own gelato after another expansion and installation of a separator, and are embarking on a new venture bottling their own milk.
"We have built a separate building to process bottled milk, cream and low-fat milk, which will allow us to expand both cheese and milk production," Julian said.
"With COVID, a lot of people are now using their holiday homes along the Great Ocean Road as their permanent residence and we're going to target that market with our milk."
They now milk 250 cows and hope to use more of their milk in the plant while continuing to supply Bulla.
COVID-19 was a blow to the business — not only stopping international tourists from visiting the shop but also impacting on distribution outlets.
However, Julian found a new market and sold products to Queensland cheesemonger Cheese Therapy, now known as Artisans Bend.
He is confident tourism will rebound.
"Not only are we paddock to plate; we actually make the product here.
"They can see the cows being milked and get the whole farming experience. People want an experience; it's not just about selling a product."
Youngest son Luke has returned to the farm with his wife Susan and now manages the dairy operation, owns the cows and is in a 50-50 share agreement. The Apostle Whey outlet now employs 10 full-time staff plus casuals.
Luke has approached his parents about buying the farm and they are keen for it to stay in the family, and they are in the process of subdividing the house and Apostle Whey cheese off as a separate title.
Julian continues to support the broader industry, recently hosting the Cream of the Crop conference and the launch of DemoDAIRY Foundation's Dairy Innovation Challenge.
"I've been blessed," he said.
"I love what I've done and nothing is hard if you enjoy what you do. What milk you see in the milk vat is the result of your management.
"Having developed the farm, bred the animals and made a product that people enjoy, as a farmer you don't get more satisfaction than that.
"Sometimes you have to create your own destiny."