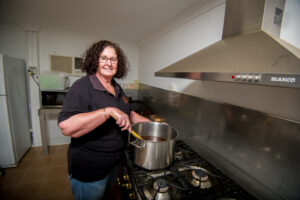 The wheel keeps turning for Gaye and Don Zappia. From grapes to figs, from large to small acreage, from 1200 trees to 100, from fresh fruit growers to value-added producers. They just keep cooking up new ideas.
Cabarita, on the outskirts of Mildura on the Victorian side of the Murray River, is technically a suburb. But for one couple it is the address of their downsized agribusiness Just Figs.
Gaye Zappia has a remarkable story to tell — how 30 years ago she and husband Don gave up with grapevines and did the hard yards turning a renovated block near the Mildura airport into a home for 1200 trees and, with cash in such short supply, they launched their little fig empire off the back of cuttings and determination.
Running that many trees, which would all be hand harvested, starting in January for three to four months every year, decade in and decade out, sounds like a big ask — and a big task. Just ask the Zappias.
"We started with two trees on another property, and we started harvesting them and the rest is history," Gaye said.
"We found the small change we received for some of our product helped pay the rates each year, so we did the maths for an expanded enterprise and that's where those 30 years went.
"Although everything was doing well, after a while things got bad for the vine industry and like us, a lot of people pulled their vines and planted figs, making business that much tougher."
But Gaye was driven by a waste not, want not, approach to the world, so she did the only thing left and turned the whole business on its head.
"When we got the trees established and were producing a lot of figs, we were sending pallets of them everywhere — to Melbourne, Sydney, even Brisbane," she said.
"But the supermarkets are so demanding, every fig had to be a perfect oval, no marks and not soft.
"In the end we found we were sometimes throwing away whole pallets of fruit because it didn't meet those protocols, even though it was perfectly good.
"So I started taking the rejects and started cooking."
And she has hardly missed a day of it since then, as the cooking quickly consumed her every minute, spread into a full-blown commercial kitchen (which took over the garage) and filled to overflowing the massive freezer she has there.
Just Figs was born and fortunately Gaye just loves cooking. And cooking. And cooking.
She also had to cook up a lot of recipes because variety would be the big appeal for a developing clientele.
From there an incredible list evolved — fig jam, fig and ginger jam, fig bites, fig rumbles, fig and roasted almond nibbles, fig syrup, fig hot chilli sauce, glazed figs, fig paste, fig relish, fig delights, fig chutney,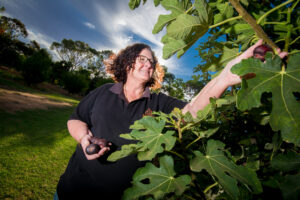 natural figs, rich chocolate fig bar, fig roll-ups, Nonna's fig biscuits — and that's just the start.
Today Gaye has downsized drastically. From 1200 trees to 100 — all Black Mission figs — and on a smaller block closer to home, which backs onto the Merbein golf course.
Downsized yes, slowed down, hardly.
There might not be pallets heading in every direction, every day, but the Just Figs brand has been spreading further by the month, across the border and into South Australia and down the Murray into Adelaide, where high-profile retailers such as Tony & Mark's have her products in a prominent position.
In Mildura, her figs are features at chic shops looking for uber-trendy products with a story and grown locally.
There's Uncle Monkey's PJs, Cellar Door, Sunraysia Produce and the Pooncarie Old Wharf Café stocking her specialties on the local scene.
There's also the honesty stall out on the Sturt Highway, where you can pull over, load up and head home (without forgetting to put the money in the cash box).
But the fig, Gaye explained, is a very fickle fruit (it's actually an inflorescence, but most will be happy with the fruit alliteration).
For example, harvest does last three months and more, but not because there is too much fruit to pick — it's just the figs keep growing towards the end of branches.
As fast as you pick them — especially when it's hot — the stems keep growing and pushing more figs out, so you keep picking them.
Gaye says if you miss them, by so much as one day, the figs still on the trees will start going soft.
"Not that the soft ones are wasted,
The fig tree might be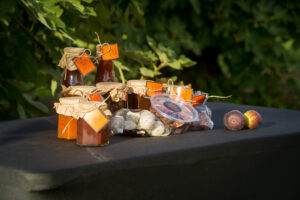 hardy but there are challenges to running a successful orchard of any kind, and the humble fig is no exception.
Gaye said their figs were almost, but not quite, organic. They have nothing sprayed on them but Don will use herbicides on the weeds, especially to stop any potential green bridge in its tracks.
Weeds are not the worst enemy, though — that honour goes to the insidious fruit fly, the bane of fruit growers across Australia.
"We've never had a bird proble
m but we hear grape growers complaining about them, and other fig growers, so I guess we have been able to dodge that bullet," Gaye said.
The only bullet Gaye has not
they go straight into my cooking pots."
been able to avoid is time. Or more correctly, the lack of it.
She reflects, with
a wry smile, the final decider about going from commercial figgers to a boutique business.
Every harvest they needed pickers, and plenty of them, but those numbers have been dwindling.
"The real problem, by the time we said 'that's enough' was even the pickers were making more money than us, so we knew we had to have a change in something," Gaye said.
"Funnily enough, though, even while our current enterprise is much, much smaller, we still have the picker problem as we work our way across the region, so margins are still pretty tight in that budget line."
Then she had to stop talking and get back to the kitchen. Those figs won't cook themselves.