Dressed in their best gumboots, Driza-bone coats and mittens, attendees at a recent workshop braved rain and the cold, plummeting temperatures to learn about farm dam improvements. DANEKA HILL was there.
Agriculture Victoria land management officer Greg Bekker says when it comes to farm dams there is plenty of anecdotal evidence among farmers but hardly any research.
"The lack of research that's been done in the water space is unbelievable," Greg said.
"But we've all seen stock walk past a dam to drink from a clean water trough.
"We've all seen a dam be fenced off for five years and completely change and that's where we choose to swim because there isn't soft sediment."
More than 30 determined people rocked up to the event, hosted by Goulburn Broken Catchment Management Authority on Denise Corbin's Waranga Shores property in north-central Victoria, which boasted several large dams dug by the previous owner who ran a multi-million dollar fern growing operation.
Denise is part of the new Waranga Catchment Landcare Group and said it brought her a sense of peace to have healthy, wildlife-friendly dams on her property.
Australian National University ecologist David Smith said small changes could bring large biodiversity and agricultural benefits.
"Improving your water quality is a big one," he said.
"It becomes safer for livestock to drink and reduces sickness in young stock."
Dirty dams often harboured bacteria like E. coli, which can weaken and kill calves.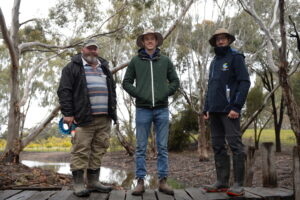 Deakin University research fellow Martino Malerba has been working with Deakin's Blue Carbon Lab to understand the hidden lives of farm dams.
"In one summer snapshot survey we found managed dams were producing 56 per cent less methane compared to open farm dams," he said.
"What's happening is plants are acting like bio-filters, cleaner water means more sunlight is penetrating the water, so there is less nutrient/bacteria build-up and more oxygenation."
Oxygenated water helps dissolve methane — a vital fact, given methane is worse than carbon dioxide for the atmosphere.
The group also found a surprisingly strong relationship between oxygenated farm dams and an area's overall soil health.
"Everyone thought farm dams were like chimneys, emitting carbon and methane from the soil," Martino said.
"But you get to a point where it reaches carbon zero and the dam stops being a chimney and becomes a carbon vacuum."
The Deakin team recently tried to include dam management in the carbon credits program, but it was knocked back due to lack of data.
"We are still working on it," Martino said.
"The general feeling is the Federal Government is in a rush to get new carbon credits available, not just to companies but also to individuals."
Goulburn Broken Landcare Network biodiversity officer Carolena Helderman also spoke about the Goulburn Broken Indigenous Seedbank at the event.
"The seedbank is a very underfunded part of the picture," Carolena said.
"Politicians keep talking about planting trees but they don't think about where those trees are going to come from."
Attendees were told not to bother buying aquatic plants — they tended to find their way into dams once the water quality improves.