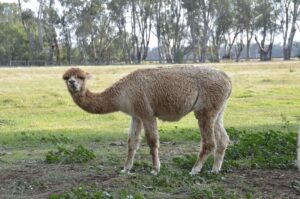 The newest shop on Alexandra's main street in north-east Victoria is taking local clothing to the extreme.
Robyn Betts has an ongoing partnership with a Strathbogie alpaca breeder and Benalla wool grower to directly source her own yarn for her fashion label, Grace Knitwear.
Once shorn, the Merino wool and alpaca fleece doesn't go very far.
It's scoured in Geelong, combed in Bacchus Marsh, spun in Wangaratta and knitted in Brunswick before coming up to Alexandra for sale.
"That process isn't quick," Robyn said.
"It can take around nine months to fit between their schedules, starting with shearing time in October."
The wool comes from Toland Poll Merino and the Suri alpaca fleece from Baarrooka Alpacas.
"Her (Baarrooka) animals have the quality I want and the province. I know it's good Suri and the customer knows where it's from and that it's an ethical farm," Robyn said.
"The sheep are unmulesed, for example. I can tell customers these things because I know the farmers."
Mulesing is a practice many customers are against, but it's very hard to find verified 'unmulesed' wool.
The Violet Town resident has been selling her hyper-local knitwear at farmers' markets for years and said people were always shocked to hear what she was doing — and that it was even possible.
"They're surprised we have the capacity to grow and create our own knitwear here," Robyn said.
"I think people are looking for sustainable, quality clothing now."
Robyn plans to use her new shop — called The Alpaca Yarn Lady — to promote other local natural fibre products alongside her own.
Australia is the largest wool producer in the world and grows 90 per cent of the world's apparel wool.
But if an Australian wants to wear Australian wool, they often have to buy a Chinese-made product.
The domestic industry is so used to exporting raw wool (known as 'greasy') that there is little manufacturing capabilities left on-shore.
To get an idea of scale — in 2020-21, 85 per cent of the country's total wool clip went to China.
"I know the (wool) industry is pushing towards growing our own manufacturing abilities again," Robyn said.
"The amount we export is enormous — particularly to China, and you have no idea what they blend it with. With Australian-made products there is a quality guarantee."
But Robyn's journey didn't start with wool. Instead, it was the alpaca which turned her into a natural fibre fanatic.
"I got them as a hobby and it grew. Then all of a sudden I couldn't understand why we had these beautiful animals and all we were doing was 'showing' them," she said.
"If they were doing it in Peru, I couldn't understand why we weren't doing it in Australia."
Robyn bred and showed Suri alpaca for 13 years.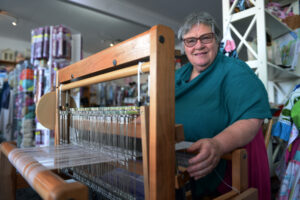 "I used to spend weekends in my shed pulling the fleece apart to see how it worked. I was fascinated by an animal having fleece and no-one doing anything with it."
With fleece on the brain, Robyn become a professional wool classer and started creating alpaca fibre top — a product used by people who spin their own yarn.
"When I started I was the only one doing it commercially in Australia. The Peruvians were doing it, but I was the only one in Australia," she said.
"Then I grew to knitting yarn, but I was always hanging out for a fine spin."
Things took a giant leap in 2018 when the Bendigo and Wangaratta Woollen Mills upgraded to include fine spin and agreed to blend Merino and alpaca together for Robyn.
Fine spin allowed Robyn to finally knit her own clothing commercially.
"Our most popular products now are the polo shirt jumpers for men and for women it's the capes and ponchos. They love the instant fashion flare.
"I look at these women and what they wear into the store, what they are buying. They want to be casual but smart."
While the customer can often skew older, Robyn said there were certain products more popular with younger people.
"The younger ones love the shawl. It's so universal and they love that natural fibre breathes.
"It's warm in winter and cool in summer. With a finer thread, you can really get that trans-seasonal benefit.
"There is so much to see in the shop. People often stay in here 30 minutes just looking at things."
Clothing and yarn is available at The Alpaca Yarn Lady shop (75 Grant St, Alexandra) or through Robyn's Grace Knitwear or the shop's Facebook page.