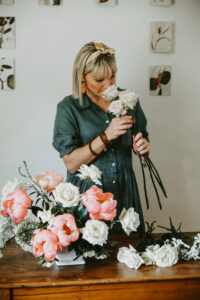 Farm wives know the deal — the farm and the family come first and everything else is a distant second place. CARLY MARRIOTT reports on one farm wife's successful juggling act.
Amanda Bahr oversees three school-aged daughters and 1120 hectares of farmland with her husband, 14km outside Henty in the NSW Riverina.
The girls are her number one priority — but you should see what she has grown and grown and grown "on the side''.
Meadow View is the aptly named farm where this creative soul has bloomed a flower farm (no straight rows or tunnels to be seen here) and a floristry business, My Floral Styling.
"This has been my saviour of motherhood and farm wife duties," Amanda confessed, as she inspected her garden on a frosty winter morning with the sun on her back.
Amanda grew up not too far away on a hobby farm north of Wagga Wagga, with "hands in the dirt" acting out segments for Burke's Backyard.
Moving from Wagga to Sydney for boarding school was a good practice run at independence before she headed to the Lakes District in the United Kingdom for a gap year after high school.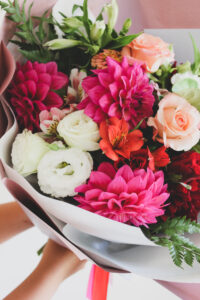 As fate would have it, a woman was going on maternity leave and asked Amanda, "can you work in a florist?".
"It's funny the confidence you have at that age. Absolutely, pass me the keys, I can run a florist!" Amanda laughed.
Like all good love stories, the best laid plans aren't worth a pinch of fertiliser.
Amanda returned home from her stint in the UK with grand plans of going into floristry in Melbourne, knowing her passion and talents were in the flower business. But then, of course, she met a farmer, Simon Bahr.
The farmer and the florist got busy sowing the seeds of their farm and their family.
The babies came in quick succession as did the side hustles — day care work, floristry, hand-made cards, gardening and finally, just two weeks after having her third daughter, Amanda prepared the wedding flowers of a close friend and knew she'd hit the sweet spot.
Kids and flowers and the farm could all co-exist in relative harmony.
"The juggle is real, I couldn't commit to something five days a week, but the garden and flowers have always worked," Amanda said.
"I tried working in Albury in visual merchandising but there was just no time if someone decided to have a tantrum about a shoe on the way to kinder. You need flexibility with kids and the farm."
In hindsight, it was the pandemic that motivated this florist to try her hand at flower farming commercially.
After spending time selling corporate flowers around Wagga and setting up a pop-up caravan florist to service the Henty region, Amanda was given a nudge by the global pandemic to get her hands back in the dirt for good.
"The flower industry really suffered from the first Mother's Day after COVID," she said.
"The reliability of freight and imported flowers went out the window in March 2020. It opened my eyes to the supply chain and the need for local growers in the Riverina.
"It made me think, if I can grow my own flowers, which I do anyway, but on a bigger scale, then I'm going to go for it."
The farmer and the florist have always enjoyed conversations about farming and gardening — the notion of planting, needing fertiliser, moisture, agronomy, the benefits of regenerative techniques.
According to Amanda, the principles are all the same and luckily, so are the essential resources.
"I have everything I need here on the farm — big machines (driven by my husband), manure, hay, healthy soil," she said, thrilled she can not only sell flowers but grow them.
"I have gone with a traditional garden style and I squeeze lots in.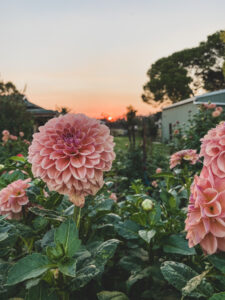 "Whilst I am jealous of 'proper' flower farms with their straight rows, I do love the luxury of spreading out further and further into the paddock as I need," Amanda laughed, reflecting on just how far her garden spread into farmland during COVID-19.
The words 'lockdown' and 'home-schooling' may still send a shiver down parents' spines, but Amanda likes to remember it as a time when she and the girls raised seeds in their sunroom and went on to establish a greenhouse for their budding flower farm.
Her greatest COVID-19 project of all came about when Amanda asked the question, "why don't I have a meadow at Meadow View?".
While the farmer is responsible for the Meadow View Poll Merino Stud, the florist was keen to turn a 20m x 30m piece of land near their creek into a real, self-seeded prairie where grasses and flowers could grow with the seasons.
Amanda describes the meadow as magic — something she hopes to grow and share with people through her floristry business.
"You can share the love with flowers. I am a little dahlia-obsessed at the minute, I also have a real love of sweet peas as you can sprinkle the seeds everywhere and reap the rewards of the flowers."
Drawing on a lifetime of giving the gift of flowers, Amanda remembers how she and her mother would always visit friends bearing flowers from their garden and she sees her own girls picking up on the act.
"Whenever I do someone's wedding flowers, I always give the brides a packet of seeds.
"They can sprinkle them at the time of their wedding and be reminded of their special day. A mother of a groom still sends me photos of the poppies that came from his buttonhole."