When Dean Druce talks about whisky you can hear the passion brewing in his voice. "Whisky is one of those people you always want to be around. Once it's in your blood you cannot get rid of it," he told CARLY MARRIOTT.
The story of the Corowa Distilling Co is nearly too good to be true — its home is the old flour mill that was bought for $1 from the local council a decade ago.
Today there are 1000 barrels on-site, 50 employees and the bragging rights of being one of only two whisky distilleries in the world invited to create a signature whisky for Queen Elizabeth II's Platinum Jubilee.
Some might say that yarn doesn't pass the pub test, but don't worry — founder Dean Druce and his head whisky-maker Beau Schlig are the first to be dumbfounded by what "a pair of mates who met playing footy" have created.
"The reaction to the Jubilee was a lot of 'you're an idiot' and 'this is a scam' … so I asked a representative from the Department of Trade and Investment to check and it was legitimate," Dean said.
Dean and the team at Corowa — a little town on the NSW side of the Murray River with a population of 7000 — have lived, breathed and tasted their way into whisky history and, according to Dean, they're only just getting started.
"We turned up in the whisky and regional tourism space at a really good time," he said.
"We are well poised and balanced to make an impact and showcase our regional community."
Dean said there were less than 20 whisky distilleries in Australia in 2010 when they first turned their stills on, and now there are 520.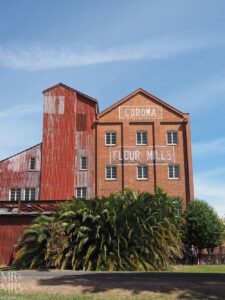 Dean is convinced that Corowa's competitive advantage is its perfect climatic conditions to mature the flavour of the whisky and the belief that the Murray River adds something special to the flavour of the Corowa drop.
While creating a signature whisky for Queen Elizabeth II must surely rank as a career highlight, Dean appears more motivated to convert the beer drinking masses to the dark arts of whisky appreciation.
"We made a whisky that's going to celebrate the Queen's reign and her life, but we're very much more than a celebratory bottle," he said.
"We make whisky that is attainable for everyone. Corowa Characters won the Best Australian single malt at Dan Murphy's in the sub $100 category. It celebrates the character in the whisky and the town."
To make whisky you need grain, water and yeast, so it makes sense that Corowa — a town traditionally known for farming and river tourism — is a natural fit for whisky making.
"This town and many towns like Corowa have so much potential, but you can't just talk about it, you have to put that potential into action," Dean said.
With an energy and effervescence akin to a coach at half-time, Dean praises the role the Corowa community has played in the distillery's success.
"They say it takes a village to raise a child, well I believe it takes a community to support a business and that is what Corowa has done."